D-link ships DSN-1100, compact 5-Bay SAN storage solution for SMB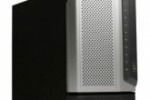 D-Link now shipping its new DSN-1100, a 5-Bay iSCSI Network Area Network (SAN) Array enclosure, offering up to a total of 7.5 Terabytes storage capacity for SMB Budget.
The DSN-1100 is housed in a compact desktop chassis, built on the same System-on-a-Chip technology from company's DSN-3000 family SAN arrays. It implements 4 one-gigabit ports and supports IEEE 802.3ad Link Aggregation Groups (LAG) for full offload capability; all four ports can be grouped together, totaling up to 425MB/s bandwidth, to increase throughput and redundancy. The unit supports SATA-II drive and a host of Raid configuration from 0,1,1+0 and 5.
Additionally, the D-link also featured an embedded, user-friendly IP-SAN Device Manager for system monitoring and management. Available now from D-link's networked distributors, resellers and solution providers, the DSN-1100 will set you back $1,799.
D-Link® xStack® DSN-1100 iSCSI SAN Array Offers Up to 7.5 Terabytes Storage Capacity, Technology for SMB Budgets

FOUNTAIN VALLEY, Calif., March 11, 2009 — D-Link today announced it is now shipping a powerful solution for the growing data storage needs of small-to-medium sized businesses. Its new 5-bay iSCSI Storage Area Network (SAN) Array enclosure is capable of holding up to 7.5 terabytes of data. Each bay accommodates one 3.5-inch SATA drive, up to 1.5TB and higher when larger capacity disks are introduced and firmware updates are made available.

The new DSN-1100 is designed with the same advanced System-on-a-Chip (SoC) technology included in D-Link's DSN-3000 family of higher capacity SAN arrays but is housed in an elegant, compact desktop chassis.

This fast storage solution is targeted to SMBs whose near-line storage is full or near capacity, and who want to supplement their primary backup and recovery device, or need to add more comprehensive network storage management.

To meet those needs, The DSN-1100 features an embedded, user-friendly IP-SAN Device Manager (IDM), a suite of utilities that allow monitoring and control via the Storage Management Initiative-Specification (SMI-S) command set.

Combined with an embedded secure server, D-Link's newest storage enclosure allows users to remotely configure and monitor their SAN storage subsystems.

The internal 10-gigabit iSCSI SoC configuration makes it possible for the DSN-1100 to handle more than 80,000 input/outputs per second and combines both networking and storage functions on one silicon chip.

The DSN-1100 implements four 1-gigabit ports, supporting industry-standard IEEE 802.3ad Link Aggregate Groups (LAG) for full offload capability. This allows all four ports to be grouped together for up to 425 megabytes bandwidth, increasing throughput and redundancy. Maximum storage efficiency also is achieved by support of four configurations of RAID – 0, 1, 1+0 and 5.

"The DSN-1100 evolutionary advancement in performance is a testament to the tightly integrated xStack storage architecture, and is a sharp contrast to the discrete implementation of competing products," says AJ Wang, chief technology officer for D-Link.

"By utilizing existing Ethernet technology," he adds, "the cost associated with separate host adapters and the per-gigabyte cost for storage is significantly reduced, and we pass that savings on to the SMB. In addition, iSCSI SANs can leverage an existing Ethernet infrastructure and standards already familiar to the IT staffs so there isn't additional training needed."

Other key features:

· Compact Cube Chassis for easy office placement (10.7" high, 6.6" wide and 10.2" deep.)

· 200-watt power supply

· CHAP authentication to halt intruders

· SSL security to manage console

· SATA-II support

· Up to 72 hours battery backup on full charge

· VLAN zoning for traffic segregation to secure access and jumbo frames

· Highly integrated, multi-core SoC for greater power efficiency

Price and Availability

The DSN-1100 is available from D-Link's network of authorized value-added resellers (VARs), solution providers, dealers and distributors for the manufacturer's suggested retail price (MSRP) of $1799.99.