Long gone are the days when a household had one lone computer connected to the Internet. Today a single home would have at least 3 smartphones, a tablet, and a laptop. Most have even more. That complicates home networking needs well beyond the capabilities of simple routers. To address the growing needs of increasingly tech savvy households, D-Link has revealed a new EXO line of routers and a new Unified Home Wi-Fi Network Kit that aims to not just speed up the transfer of data within the house but also manage that traffic depending on the needs of the users.
The nee D-Link EXO routers, the AC1900 and AC1750, take off from the company's Ultra Performance line of routers. The key difference is the while these two new routers do deliver fast Wi-Fi speeds, they do so without burning a hole through your pocket. Both routers make use of high speed 11AC dual-band networks and both support up to 1300 Mbps on the 5 GHz band. The difference is on the 2.4 GHz band, where the AC1900 can reach up to 600 Mbps speeds whole the AC1750 goes only up to 450 Mbps.
In almost all other aspects, the two are near identical, especially when it comes to the features that make the EXO special. High power amplifiers, for example, ensure strong signals all throughout your house. And because not all Internet usage is created equal, the routers' SmartConnect feature intelligently assigns each connected device to one of the two bands, depending on their need, so that those streaming videos won't eat into the bandwidth of those playing online games.
The D-Link EXO AC1900 (DIR-879) will be sometime in the first quarter for $149.99. The EXO AC1750 (DIR-869) will come later in the second quarter with a price tag of $129.99.
For more complicated or bigger home networks, D-Link is launching the Unified Home Wi-Fi Network with Adaptive Roaming Technology. That is a mouthful that basically means a high-speed router and extender that are both smart enough to transfer connected device between each other depending on which of the two offers the better signal. Both also make use of 11AC wireless networks. The AC4300 router, in particular, goes up to 1733 Mbps on 5 GHz and 800 Mbps on 2.4 GHz. The AC1300 Gigabit extender boasts speeds of up to 867 Mbps on 5 GHz and 450 Mbps on 2.4 GHz.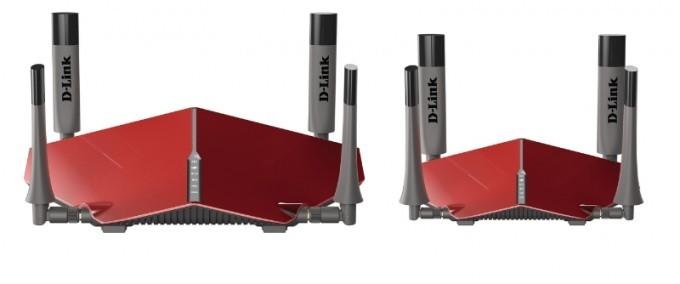 The D-Link DKT-891, which is the even shorter name for this networking kit, will go on sale in Q2 this year for $369.99