D-Link DCS-5010L Pan & Tilt Day/Night Camera introduced for home surveillance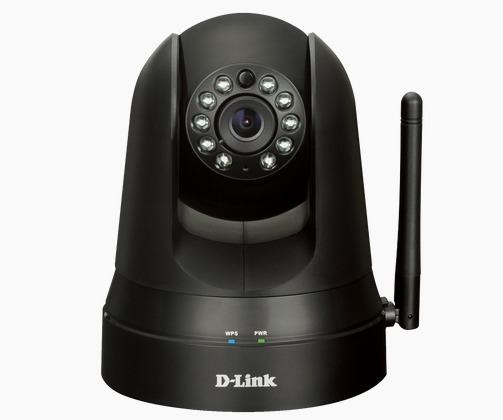 D-Link has taken the wraps off its new home and small business surveillance camera, the Pan & Tilt Day/Night DCS-5010L Camera. The company says the camera offers an "advanced" video surveillance solution for those with modest needs and, in terms of budget, modest means. As the name suggests, the camera can be pivoted and tilted, and has night vision for use in low-light and night settings.
The DCS-5010L features a wide-angle lens and is capable of 340-degree pan and 120-degree tilt range. Because of this, says D-Link, there are less blind spots to deal with, and the wide-angle lens allows for a wider viewing area to be monitored in any given position than would otherwise be possible with a different lens offering. The field-of-view comes in at 66-degrees horizontally, as well, with all these aspects able to be remote controlled.
There's also zoom, though it only extends to 4x and is only offered digitally. There's an IR Cut Filter implemented in the design, which helps result in "enhanced" color accuracy in daylight hours to filter infrared light. When night time rolls around, the camera automatically switches into night-vision mode, lighting up the IR LEDs positioned around the lens. The LEDs can illuminate up to 26-feet in complete darkness.
The Pan & Tilt camera features mydlink support, and can be viewed in live video streaming on a mobile device running Android or iOS, as well as a laptops and desktop computers. Multiple camera feeds can be accessed with the apps, settings can be changed and set, and remote functions can be performed, such as zooming and panning. There's two-way audio, override, and the ability to schedule recordings.
Said D-Link's Vice President of Marketing Daniel Kelley: "Our newest Pan & Tilt Camera provides the performance and features of a professional home or small business surveillance solution at a fraction of the cost. The combination of the pan/tilt functionality, color accuracy, motion detection alerting, night vision, and zoom, as well as remote viewing through our my dlink apps and portal, gives consumers and small businesses alike the most bang for their buck when compared to other security solutions."
Available now for $99.99 USD.
SOURCE: BusinessWire