CyberPower Announces Fang Series Evo Enhancements for Gaming PCs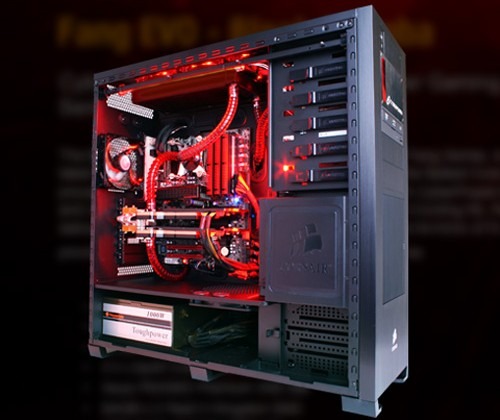 When it comes to hardcore PC gamers, they know that they've got plenty of options out there to choose from. Manufacturers make a killing off offering the latest and greatest in the market. And, not to be out-done, CyberPower has announced today that they're introducing Fang Series Evo enhancements to their gaming PCs. Four different PCs are getting the upgrades, making them some of the most noteworthy gaming PCs out there right now.
Going from one model to the next, the Cobra features an over-clocked Intel Core i7 processor, clocked at 3.84GHz. It also has 6GB of DDR3 RAM, 1TB SATA II, 7,200RPM hard drive, and one NVIDIA GTX 470 graphics card. There's a 22X DVD burner in there, too. The Viper gaming PC has an over-clocked Core i7 processor which runs at 3.37GHz. It has 6G of DDR3 RAM, and an ATI Radeon HD 5770 graphics card. It also has a 1TB hard drive and 22X DVD burner. The Rattler features an over-clocked Intel Core i7, clocked at 3.22GHz and featuring 4GB of RAM. There's a 1GB ATI Radeon HD 5670 inside the tower as well. Again, there's that 1TB hard drive and 22X DVD burner.
The Black Mamba takes the cake, though, with its Core i7-980X processor, over-clocked to reach 4.33GHz. There's 12GB of DDR3 RAM, and NVIDIA's GTX 480 graphics card, which are liquid cooled. There's a pair of 64GB SSD drives, and a 2TB hard drive. Instead of the DVD burner, it has a 4x Blu-ray drive, which is paired with a DVD burner. Features for all of them equal Windows 7 Home Premium 64bit, USB 3.0 ports, and 6Gbps SATA interface. You can start configuring your models starting at $999, right now.
[via Electronista]