Cyanogen-powered Alacatel TOUCH Hero 2+ is no more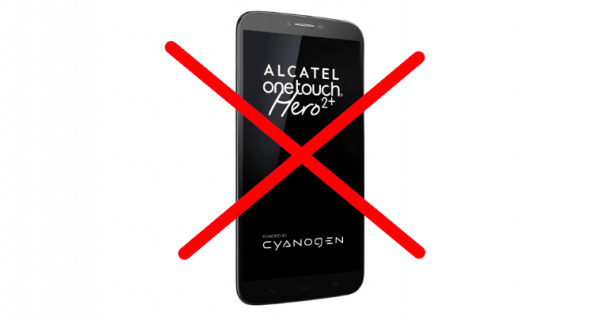 It hasn't even seen the light of day and it no longer will. Alcatel and Cyanogen, Inc. have jointly announced that they are canceling their previously announced plans for a ONETOUCH Hero 2+ remix. Based on last year's Hero 2, this particular smartphone would have been Cyanogen's first device from a well known international brand. Of course, the two will still collaborate on a new Alcatel device bearing Cyanogen OS, but this incident perhaps demonstrate Cyanogen's overeagerness to spread its software, counting their eggs before they even hatched.
The Hero 2 itself is a decent phablet, though it really gives justice to the phablet name. Reaching 6 inches on the diagonal, the device has a 1080p resolution display and is powered by an octa-core MediaTek chip. For memory, it has 2 GB internal and 16 GB of storage. Cameras are more or less decent, with a 13 megapixel shooter at the back and a 5 megapixel one in front.
Last March, Alcatel and Cyanogen made a joint announcement that presented the Hero 2+ as a revamped model with one key difference. Instead of Alcatel's custom Android skin, it would run Cyanogen OS, itself based on the CyanogenMod ROM. This is Cyanogen's first big break when it comes to partners, following on its partnerships with OnePlus, which went south, and Micromax in India.
Now the two are putting the brakes on the project. Officially, they say that the Hero 2 "does not have a clear Android 5.1 upgrade path", meaning they have hit technical walls when trying to make Cyanogen OS run on the smartphone. They aren't exactly clear on what those issues were and perhaps we'll never know, though it does seem puzzling considering there shouldn't be anything out of the ordinary when it comes to the Hero 2 hardware.
Of course, the two aren't calling it quits. Instead they will focus on developing a completely new phone that will run Cyanogen OS rather than repurpose an existing one. That said, it's still mildly amusing that Alcatel and Cyanogen didn't first check if it was at all possible before they promised a Hero 2+.
VIA: Android Central