Many space geeks got excited a while back when the Curiosity rover discovered an object on the ground some called the Mars flower. It turned out to be a piece of plastic from the rover itself. Curiosity has now discovered another interesting and strange objects sitting on a rock on the surface of Mars.
The rover discovered a shiny, metallic object that didn't blend in with the rock it sits on or the environment around the object. The shiny metallic object is sitting on the surface of a rock and is estimated to be about 0.5 cm tall. While NASA isn't sure what the object is at this time or where it might have come from, there are a few theories being tossed around.
One theory suggests that the metallic protuberance may be nothing more than part of the rock that is more resistant to erosion than the rest of the rock. Another theory is that it could be some sort of metallic material that has grown on the rock. Observations have told researchers so far that the metallic material is smooth and isn't covered in dust.
The researchers say that the material not being covered in dust shows a characteristic trait of metals that are easy to clean. The grainy image of the metallic protuberance was taken on January 30, 2013 using the Curiosity Mastcam. Research into exactly what the protuberance might be is ongoing. It looks like Nessie to me.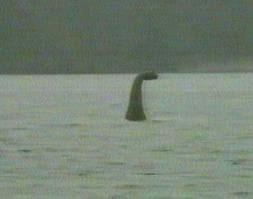 [via Science Recorder]