CTIA 2007: Test-driving the Sound Leaf Bone Conduction Receiver Microphone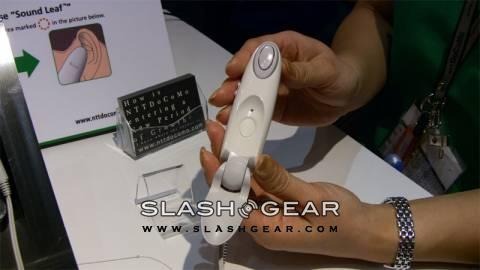 Base on my expressions from the video below, you'll just have to take my word that the Sound Leaf totally kicks ass.
The Sound Leaf "Bone Conduction Receiver Microphone" is a great add-on to your existing handset for speaking in loud places, and for people suffering from age-related hearing loss.
It plugs into FOMA phones with flat earphone microphone jacks, and conducts sound vibrations to the auditory nerves through the cranial bones. This is also the first product in the industry that combines a bone-conduction function with a telephone coil (T-Coil) allowing people using hearing aids (with T-Coil) to make clear calls.