Cricket to unveil new nationwide monthly voice and data plans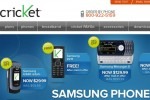 Leap Wireless has announced that it is introducing a pair of new nationwide Cricket monthly voice and broadband data plans. The new plans are all inclusive and will be sold for $40 and $45 monthly at large retail outlets all around the country.
The plans will be added alongside the existing Cricket PAYGo product line offering unlimited daily wireless services without a contract or credit check. The plan selling for $40 includes unlimited talk, US long distance, and access to the premium extended calling area along with text and picture messaging.
The $45 monthly plan has the features of the $40 plan and it adds mobile Web access and directory assistance. The Cricket Broadband plan will also be offered in retail locations around the country with a new $50 plan that is all-inclusive providing unlimited Internet access. A Cricket A600 modem will be available for $69.99 with no activation fee to go along with the broadband service.