Cricket PayGo phones and plans coming to Best Buy Mobile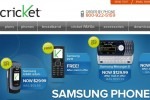 Cricket Communications has been launching and announcing many new devices over the last few months that work with its pay as you go mobile service and mobile broadband offerings. The big thing that I keep wondering about each time I see new products from the company is where you buy them locally.
If you have been wondering the same thing, Cricket Communications has announced that its phones, devices, and plans will be coming to Best Buy Mobile. The Cricket devices and service will come to Best Buy Mobile this Sunday.
Best Buy associates will be trained to answer questions on Cricket devices and wireless plans. According to Cricket, Best Buy Mobile employees have undergone 80 hours of training on the new offerings. Compatible accessories will also be available from Best Buy.