Creative Zen Wav - iPod Nano Gets Some More Competition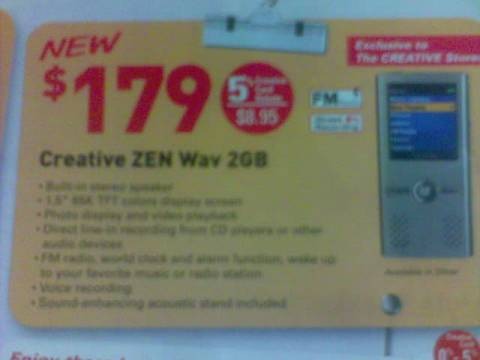 Creative won't give up on media player market yet and is adding a new Zen to their player portfolio. The Zen Wav, a new player that is believes to be competiting with iPod Nano. The Zen Wav has similarity in navigation feature with its sibling Zen Neeon using a joystick and two buttons in front of the player.
One of the unique features of Creative Wav is the built-in external speaker. The Player also feature world clock, alarm, FM radio, direct line and voice recorder, and 1.5-inch screen with 65k color. Unlike the iPod Nano, Zen Wav support video playback.
There are no information regarding Zen Wav release in the United States, it goes on sale in Singapore on May 25th. Like the Zen Neeon, it might not hit the US market. The Zen Wav will start at SG$179 (around US$120) for the 2GB version.
Creative Zen Wav Features External Speaker [via anything but ipod]