Creative launches D80 Bluetooth speaker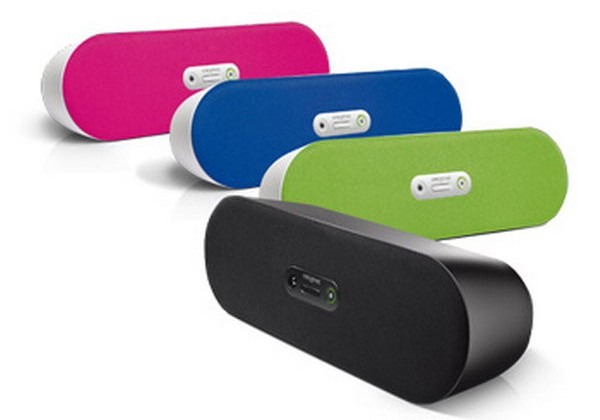 I mentioned just a bit ago that Creative had unveiled a new and affordable digital music player called the M300 that starts about $50 and supports Bluetooth. If you have your eye on that new M300 audio player, or if you have a MP3 player that supports Bluetooth already, Creative also has a new Bluetooth speaker. The new speaker is called the Creative D80 and it comes in many colors to suit your personality. The price for the D80 is also very reasonable.
The Creative D80 costs $49 and it can play audio from any Bluetooth device. It will work with the iPhone, Android devices, tablets, and anything else supporting Bluetooth. Inside the colorful case, it has dual 3-inch full range drivers for rich sound quality. The D80 can be had with a white case and green, blue, or pink speaker covers. It also comes in a more subdued solid black version as well.
If you have a device that lacks Bluetooth, the D80 also has an Aux input for connecting via a 3.5mm patch cable. "The adoption rate for Bluetooth enabled smart devices with built-in music playback has grown phenomenally over the last few years. Most people today store their music in portable Bluetooth enabled devices like the iPhone, Android phone, Blackberry or tablet computers like the iPad or Creative ZiiO, and the Creative D80 is designed to be the perfect compact Bluetooth speaker to go with these wireless devices. What's more, when you use the Creative D80 with Creative's highly affordable ZEN Style M300, you'll get one of the lowest costing wireless music systems money can buy," said Ting Lai Chu, Vice President for the Advanced Multimedia Group at Creative Technology Ltd. "The Creative D80 speaker is so compact that it can easily be carried anywhere throughout the home or almost everywhere in a backpack, and it's priced for everyone."