Go where no PMP has gone before with the Vision W's 4.3" 262K color 480 x 272 LCD Screen. Hardware Zone proclaims it to be the best video display they've seen. I know we already wrote about the Zen Vision W (Widescreen), but it's always good to recap for those not up to speed. Creative will release the Zen Vision W overseas beginning of September 2006, featuring a 16:9 wide aspect ratio screen. The ZVN will support DVD quality resolution at 720×480 when outputting to your TV. The estimated retail price for the 30GB version is $400, while the 60GB version will cost slightly higher at $500. The release date for the US market is still unknown.
Enjoy the video, and click through for the official Creative ZEN Vision W press release.
SINGAPORE – August 30, 2006 – Creative Technology Ltd. (NASDAQ: CREAF), a worldwide leader in digital entertainment products, today introduced the Creative ZEN Vision W portable video, photo and MP3 player. The Creative ZEN Vision W features a high resolution, 4.3-inch, 16:9 format, colour widescreen TFT display for viewing up to 240 hours of video, tens of thousands of photos and it can carry up to 15,000 songs. The Creative ZEN Vision W is also ideal as a portable camera companion. Featuring a built-in Compact Flash slot, users can now easily import photos directly from a digital camera without a PC. The Creative ZEN Vision W (30GB) premieres at COMEX 2006 in Singapore on 31 August 2006 for only S$649.00 and will be available at all Creative Stores island-wide and online at sg.store.creative.com, as well as other retail stores in Singapore. The 60GB model for just S$749.00 will be available in end September 2006.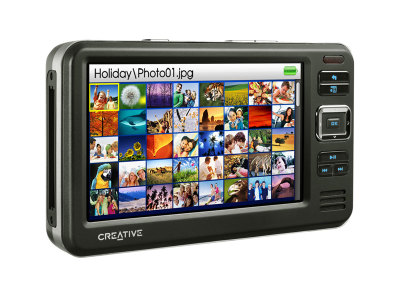 "We designed the Creative ZEN Vision W with a stunning 16:9-format widescreen and 30GB or 60GB capacity to be the most compelling portable video player and photo viewer on the market," said Sim Wong Hoo, chairman and CEO of Creative. "With support for a large selection of video formats, subscription and download music services and a built-in Compact Flash slot for direct transfer of photos from many popular digital cameras, the Creative ZEN Vision W is the ultimate travel companion."
Digital Video
The Creative ZEN Vision W supports a wide selection of video formats, including MPEG-1, MPEG-2, MPEG-4-SP, MJPEG and XviD, for playback of video clips and movies downloaded from the Internet. The Creative ZEN Vision W also supports digitised home movies transferred from the PC. The removable rechargeable battery provides up to 4.5 hours of video playback.
Digital Photos
The Creative ZEN Vision W can carry tens of thousands of photos, making it the perfect destination for offloading photos to free up space on your digital camera's storage card during a vacation. The convenient Plug&View™ slot on the side of the player supports both Compact Flash Type I and Type II media. An optional Compact Flash Adapter plugs directly into the Compact Flash slot to accept other popular memory card types including SmartMedia, MultiMedia Card and Secure Digital.
For sharing photos with family and friends, a convenient composite AV-out connection enables stunning full colour, 720 x 480 image output on any size NTSC TV screen, or 720 x 576 image output on any size PAL TV screen. Users can watch slide shows set to favourite music, which can be played through headphones, the built-in speaker on the face of the player, or by connecting speakers such as a Creative I-Trigue® 2.1 system.
Music and More
The Creative ZEN Vision W supports music subscription services such as Yahoo! Music Unlimited, Napster To Go, Urge and MSN Music. It also supports downloads from Internet music stores such as AOL Music Now, Napster, Yahoo! Music, and Soundbuzz, as well as spoken audio from Audible.com. The Creative ZEN Vision W includes a built-in FM radio that features 32 selectable station settings.
Additional Features
The 4.3-inch colour widescreen on the Creative ZEN Vision W displays the patented ZEN user interface to access music, photos and video. It also includes:
Built-in microphone – Volume levels displayed on screen for optimum recording quality
Organizer – Provides calendar, tasks and contact lists, and synchronises with Microsoft Outlook
Extras – Enables setting of Date & Time, plus allocation of Removable Disk space for dedicated storage
Clock – A clock with wake-to-any-music alarm, colour themes and different languages for further customisation
The Creative ZEN Vision W connects to the PC via USB 2.0 for fast, easy transfer of content. Other optional accessories, including a Compact Flash Adapter, screen protector, standing case, travel charger, wired remote and IR remote, will all be available for purchase separately.
Creative ZEN Vision:M 60GB
Creative also today announced a 60GB model of the award-winning Creative ZEN Vision:M MP3, photo and video player. The new 60GB model can hold up to 15,000 songs, up to 240 hours of video or tens of thousands of photos. It also enables users to transfer photos from a digital camera directly to the player with the included USB Host Adapter cable. The Creative ZEN Vision:M (60GB) will be available for pre-order at COMEX 2006 on 31 August 2006 for just S$599.00. It will be available in Singapore at all Creative Stores island-wide and online at sg.store.creative.com, as well as other retail stores in end September 2006.
For more information, visit www.asia.creative.com