Creative announces new Zen X-Fi 2 PMP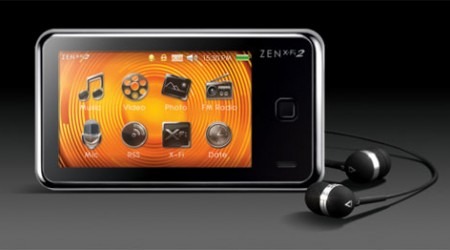 Creative has been plugging away with its line of Zen PMPs for a while now and has made its latest creation official. The new Zen X-Fi 2 has a big 3-inch touch screen and packs in X-Fi technology for better sound. Creative will offer the PMP in 8GB, 16GB, and 32GB capacities.
The device measures 102 x 57 x 11.6mm and weighs 75 grams. The large touch screen supports 262K colors and the player supports MP3, WMA, Audible 4, AAC, and FLAC file formats. Video in and out jacks support PAL and NTSC video in stereo via an optional AV cable. RSS feeds can be displayed when offline once the player is synced with a PC connected to the Internet.
Once the internal storage runs dry, expansion is available with microSD cards. A speaker is also built-in for listening without headphones. Video formats supported include WMV9, MPEG4-SP, DivX, and XviD. Other features include a clock, alarm, calendar, tasks, and contacts function that synchronizes with Outlook. The Zen X-Fi 2 is available for pre-order on Amazon at $229.99 for the 32GB, $179.99 for the 16GB, and $129.99 for the 8GB.