Cray XC30-AC lowers the bar for supercomputing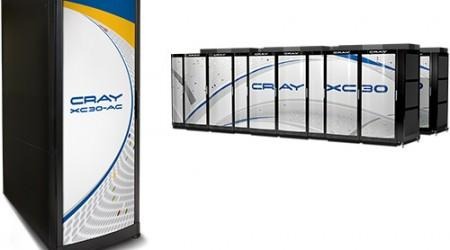 Cray has been producing some of the best performing supercomputers since there was such a thing as supercomputers. The company has recently announced a new entry-level supercomputer called the XC30-AC. The big feature of this machine is its aggressive price.
Compared to the multimillion-dollar supercomputers out there, the XC30 is a bargain at a $500,000 starting price. The machines can go all the way up to $3 million depending on configuration. Cray says that its new budget supercomputer uses many the same components and software elements as the company's liquid cooled behemoths costing anywhere up to $20 million.
Much of the savings offered by the new budget priced supercomputer is thanks to the fact that the XC30-AC is air-cooled, rather than liquid cooled, and doesn't require optical networking cables. Cray says that the new machine is targeting manufacturers, pharmaceutical companies, and oil and gas firms.
The machine is also well-suited for small universities, research labs, and government agencies according to Cray. The new budget Cray supercomputer is available right now and runs a Linux-based operating system and software environment. The software in ROM includes a compiler and software tools for parallel code.
[via InformationWeek]