Could this be the Ferrari 488 GTO?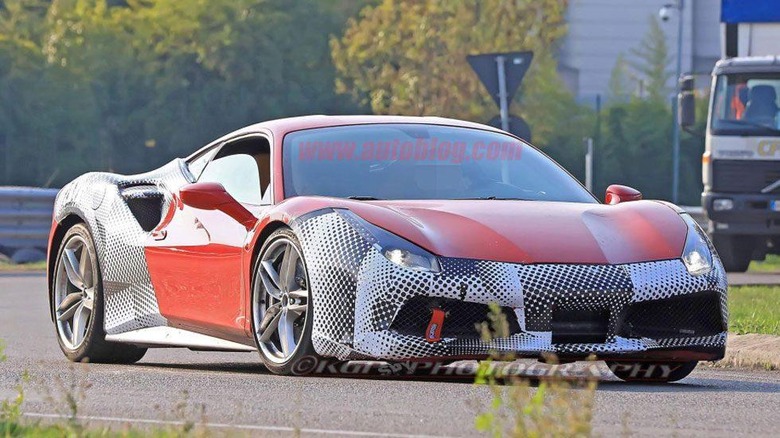 At first glance, much of this car looks like the Ferrari 488 GTB. Then if you look at the parts hidden under the camo the car starts to look different. This is likely the Ferrari 488 GTO, a hopped-up version of the GTB. There is certainly no official confirmation of this, but we can hope.
Ferrari has a history of launching models that have a bit more oomph compared to the car it is based on. It did this with several other mid-engine V8 cars like the 360 Challenge Stradale, 430 Scuderia, and the 458 Speciale. Those models all have similar trends, all-out performance with less creature comfort.
These images show changes to the front of the car and rear fenders. The front splitter appears to be different from the standard 488 GTB. It also appears that the intakes behind the doors are larger. The 488 GTO is expected to be a turbo car.
There is some rumor floating around that Ferrari is working on a new entry-level mid-engine car called the Dino. That car would use a Ferrari twin-turbo V6 according to some rumors from the Alfa Romeo Giulia.
It's not likely that the car we see in images here is that Dino. Entry-level Ferrari is a bit of a misnomer, the car certainly won't be cheap but might bring a new buyer to Ferrari. It would certainly be cool to have a Ferrari in the $100,000 range new, but that's not likely.
SOURCE: Autoblog