Could the mystery tablet in this Verizon ad be from HTC?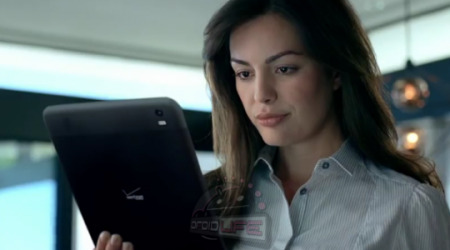 Any time a video hits a wireless carrier's YouTube or other network and is then quickly pulled after people start talking about something in the video we all start to wonder why. Such is the case with a video that surfaced for Verizon Wireless. In the video, a hot brunette is using a tablet that we haven't seen before. Naturally, the tablet started being talked about. Shortly thereafter the video was pulled.
The pondering is running rampant know and thankfully we have a screen shot above so you can gander at the tablet (and the hottie) and wonder what it is. We think it might be the long desired HTC Honeycomb tablet for Verizon users. The design does look similar. It could also be the Motorola Xoom 2 tablet as well.
Of course both those speculations could be wrong and the tablet could be something else altogether. My money is on HTC tablet, the design looks very HTC to me as you can see from the gallery photo. Whatever it is, I doubt we have to wait long to find out. If the commercial is ready, the product has to be very close to launch. What do you think we are seeing here?
[via Android Community]