Corsair One gaming PC unveiled with four models: pre-orders are live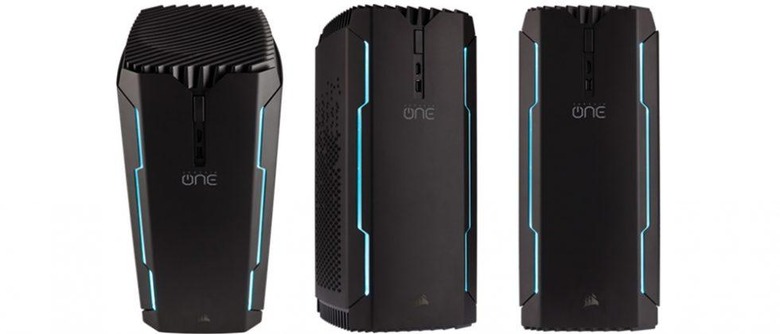 Corsair has taken the wraps off its new Corsair One desktop gaming PC, a product that is being offered in four different models with hardware to meet just about any need. The desktop features a futuristic design thanks to its angular chassis and glowing blue LED light strips. Despite the power it packs, Corsair promises its offering is 'extremely quiet' thanks to an integrated liquid-cooling system.
The Corsair One is designed for PC gamers who are serious about their games. Depending on the model, buyers can get a 7th-generation Intel Core processor, Intel 200 Series chipset, NVIDIA GeForce GTX 1080 graphics, and 16GB of RAM. The desktop models run Windows 10 Home and are suitable for VR gaming as well as traditional PC games.
The aforementioned liquid cooling system is integrated into the desktop, which includes 240mm radiators for drawing air and a magnetic levitation ML-140 fan for removing the heat. The chassis is made from milled aluminum, and it has a minimal footprint for easy placement on most desks. Overall, the PC has a 12L volume.
Those interested can pre-order the Corsair One now, assuming you're located in Australia, Europe, or North America. The PCs will be available later on this month. Check out the specs below for the full list of hardware for each model.
CORSAIR ONE:

- Processor: Intel Core™ i7 7700, 4.2GHz Max Turbo Frequency, Liquid-Cooled

- Graphics Card: NVIDIA GEFORCE GTX 1070 8GB, Boost Clock 1,721MHz, Base Clock 1,531MHz, Air Cooled

- Memory: 16GB CORSAIR VENGEANCE LPX 2,400MHz

- Storage: CORSAIR FORCE LE 240GB SSD, 1TB HDD

- Motherboard: Custom MSI Z270 Mini-ITX

- PSU: CORSAIR SF400 80PLUS GOLD SFX

- Chassis: Black, Aluminum, VR-Ready

- OS: Windows 10 Home and future Microsoft updates MSRP: $1,799.99 Exc. TAX

CORSAIR ONE PRO:Processor: Intel Core™ i7 7700K, 4.5GHz Max Turbo Frequency, Liquid-CooledGraphics Card: NVIDIA GEFORCE GTX 1080 8GB, Boost Clock 1,771 MHz, Base Clock 1,632MHz, Liquid-CooledMemory: 16GB CORSAIR VENGEANCE LPX 2,400MHzStorage: CORSAIR FORCE LE 480GB SSD, 1TB HDDMotherboard: Custom MSI Z270 Mini-ITXPSU: CORSAIR SF400 80PLUS GOLD SFXChassis: Black, Aluminum, VR-ReadyOS: Windows 10 Home and future Microsoft updatesMSRP: $2,199.99CORSAIR ONE PRO

- Processor: Intel Core™ i7 7700K Liquid-Cooled, 4.5GHz Max Turbo Frequency

- Graphics Card: NVIDIA GEFORCE GTX 1080 8GB Liquid-Cooled, Boost Clock 1,771 MHz, Base Clock 1,632MHz

- Memory: 16GB CORSAIR VENGEANCE LPX 2,400MHz

- Storage: CORSAIR FORCE LE 960GB SSD

- Motherboard: Custom MSI Z270 Mini-ITX PSU: CORSAIR SF400 80PLUS GOLD SFX

- OS: Windows 10 Home and future Microsoft updates

- Chassis: Black, Aluminum, VR-Ready

- MSRP: $2,299.99

CORSAIR ONE PRO GTX 1080 Ti

- Processor: Intel Core™ i7 7700K, 4.5GHz Max Turbo Frequency, Liquid-Cooled

- Graphics Card: NVIDIA GEFORCE GTX 1080 Ti 11GB, Liquid-Cooled

- Memory: 16GB CORSAIR VENGEANCE LPX 2,400MHz

- Storage: CORSAIR FORCE LE 960GB SSD

- Motherboard: Custom MSI Z270 Mini-ITX

- PSU: CORSAIR SF500 80PLUS GOLD SFX

- Chassis: Black, Aluminum, VR-Ready

- OS: Windows 10 Home

- MSRP: $ 2,599.99
SOURCE: Corsair