Coolest Clock is a smartphone-connected projection clock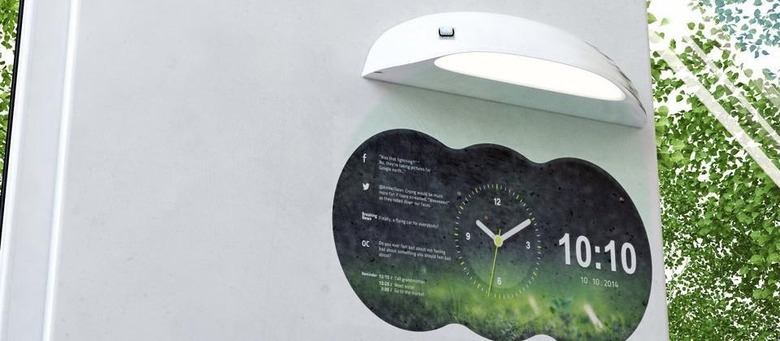 Coolest Clock is the wall-mounted projection display that you never realized you needed. It's up for crowdfunding on Indiegogo and has blown its goals out of the water, reeling in over $230,000 USD when its original goal was only $20,000 USD. This device looks sleek and compact while projecting all kinds of up-to-the-minute live info like weather, social media, and news. It also tells time, but I'm sure you have something in your arsenal of devices that can already do that. If you want to buy Coolest Clock, it's not to tell time. You would buy it for its live projection screen update of information, and of course, because it's the Coolest Clock out there.
I must admit, I do have a bit of an issue with the name of this sleek device. The name, Coolest Clock, is both overly ambitious and under-descriptive. I concede that it's akin to the term smartphone, when smartphones are practically mini-tablets that just so happen to make the occasional phone call.
It's much more than a clock. It's a live display of customizable updates from all your favorite social media. Showing live status updates from Facebook, twitter, RSS feeds and more, this clock is more of a projected tablet display.
Coolest Clock features live news feed updates and is completely controllable by smartphone and Internet. Your smartphone doesn't even need to be in the same room as the clock to control it. Because the clock uses Wi-Fi, you can adjust the settings from anywhere.
The "faces" on this clock are beautiful and completely customizable. For the display, you can adjust the projection size and change the clock skins. Check out some of the neat skins in the gallery below.
Of course, Coolest Clock also tells time along with the weather. For those of you who order through Indiegogo, the clocks will be first shipped in December 2015. Most of the early bird specials have already been taken, but upon release Coolest Clock will retail for $299 USD.
Source: Indiegogo