ConvenientPower's WoW5 Qi wireless charger first to support 5 simultaneous devices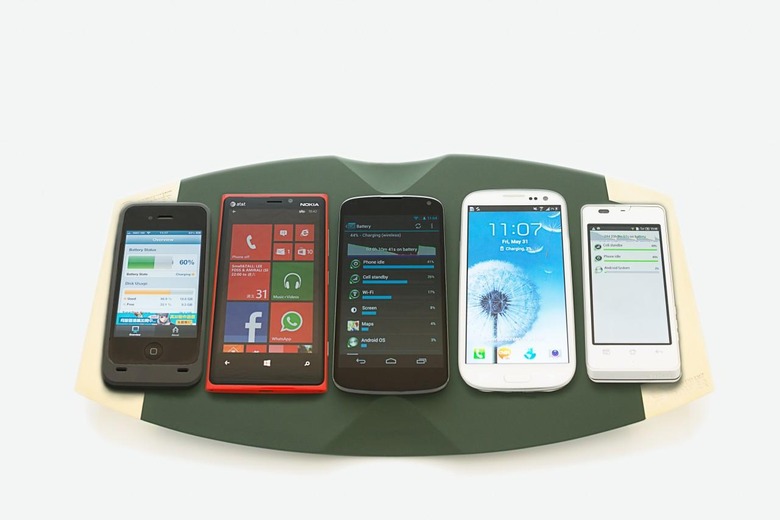 We've seen a variety of Qi wireless chargers for devices over the past months, but at Computex the company known as ConvenientPower is showing off the world's first Qi charger that can charge up to five devices at the same time – the WoW5. Not only that, but the requirement to place the device just right on the charging surface has also been eliminated, making it easier to use.
With some other Qi charging pads, the device to be charged needs to be placed on the mat in a specific area, otherwise it doesn't work so well. Such is said not to be the case with the WoW5, which allows up to five Qi-supported devices to be placed anywhere on the mat, where they will then be wirelessly charged. This makes it easier to use, and reduces the odds of your devices being jarred and failing to charge.
The charging is achieved inductively, which means issues with heat and poor efficiency that some devices suffer from are not an issue. The WoW5 features shielding, Foreign Object Detection, and "smart localized charging" as part of its charging powers. The mat itself measures in from 5 to 9 millimeters, and 280mm x 120mm. ConvenientPower says there are no dead spots and users don't have to worry about uneven charging.
ConvenientPower also brags that the device is both customizable and scalable, with the overlapping coils that are used in the multi-coil array offering a scalable surface for any device. Likewise, the charging mat can be customized without increasing in thickness. There's no word on when the WoW5 will be released, nor how much it will cost.
ConvenientPower's President Camille Tang said: "The carefree drop-and-charge anywhere on the charger experience is a real game-changer for our mobile device-dependent lifestyle. The WoW5 platform creates a 'wow' user experience for consumers hauling chargers and batteries around and hunting for electrical outlets. Catering to multiple compatible devices, the WoW5 is ideal for public spaces like cafes, airports, hotels, offices – anywhere lots of people want to charge their devices without the hassle of wires and outlets."
SOURCE: Business Wire