Connect Plus keychain adapter has micro USB, Lightning connectors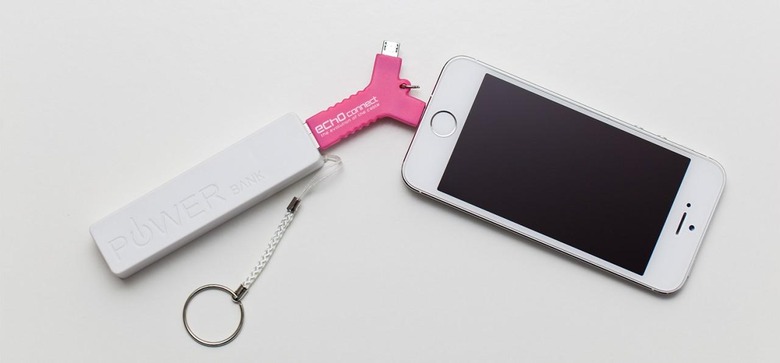 Echo's Connect Plus is a "Y"-shaped USB connector with a standard USB connector on one side, and both a micro USB and Apple Lightning connector on each arm. This allows both Apple devices and gadgets that use micro USB to be charged without carrying around separate compatible cables, and the addition of flexibility means it can be re-adjusted and bent to work with different gadgets that might have unusual port placements. In addition, the device is small enough to fit on a keychain, and includes a keychain loop.
Echo calls its Connect Plus a charge key, and says it is the first of its kind with dual-connectors that support both Apple devices and micro USB gadgets. The Lightning connector is MFI-certified, according to the maker.
The Connect Plus features a small loop between the "Y" arms through which a lanyard or a keychain can be attached. Because it'll likely spend its life on one's key chain, the design is meant to be durable enough for frequent use. The overall unit measures in at 6cm, and will be available in three colors: Blue, Purple, and Black.
The maker behind Connect Plus is looking to raise $10,000 USD on Indiegogo, and thus far nearly half of that has been achieved with nearly two months remaining in the campaign. Those who pledge $15 will get one of the early discounted models, which is set to ship out in April of this year. The retail price will be $30+ once it launches for the general public.
SOURCE: Indiegogo