Confederate time capsule found, contents mostly destroyed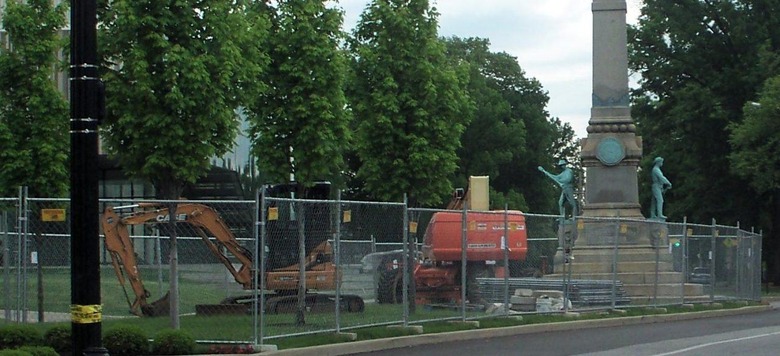 An unexpected Confederate time capsule was found beneath the Confederate monument near the University of Louisville, but unfortunately it doesn't hold any well-preserved treasure. The contents in the box are probably destroyed, according to the city mayor, as the capsule itself was waterlogged. The time capsule is made of brass, per initial reports, and was only half a foot beneath the monument. The discovery was made yesterday during construction work.
According to the local Courier Journal, the Louisville Public Art Administrator Sarah Lindgren said, "It's hard to say at this point whether the box was sealed at all. It certainly isn't now and pieces are falling apart." That's unfortunate, as the time capsule is thought to contain a cigar lit by Jefferson Davis and other historically significant items related to the Civil War.
It's too early to say whether everything is lost to water damage, though — professionals are drying and cleaning the items to see which can be preserved. It they do manage to salvage any of the items, we may get a look at Confederate currency, memoirs, and more.
The time capsule was only discovered due to the city's controversial decision to remove the Confederate memorial. The statue itself will be moved to a place where it can be used as a prop during Civil War reenactments. Whatever time capsule treasures manage to survive, though, will find themselves donated to a local historical society.
SOURCE: Courier Journal
Image via Kintpuash