Compaq 6000 Pro AIO is first AIO for Enterprise from HP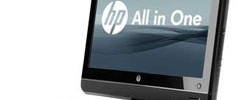 HP has tossed a new AIO machine into the ring to fight for the enterprise dollars starting to flow a little more freely in the states. The new machine is the Compaq 6000 Pro All-in-One. The machine promises to add more functional space to cubicles and needs only one power cord for the entire machine.
The 6000 Pro AIO has a range of Core 2 Duo processors available and runs Windows 7 Professional 32 and 64-bit operating systems. The rig can be fitted with up to 8GB of RAM and up to 1TB of storage space.
The AIO machine can also be fitted with an 80GB SSD instead of the traditional HDD. The screen is 21.5-inches and has HD resolution with LED backlighting. Other features include a LightScribe CD/DVD burner, a memory card reader, and an optional TV tuner. The machine also ships with video conferencing software installed. The ship date for the new AIO is set for July 16 starting at $899.