Compact Disc Eraser is eco-friendly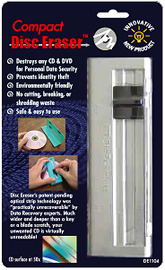 Wade Sun is an inventor who came up with the idea for the Compact Disk Eraser. It is a small device that has a tiny blade that gets rid of data stored on compact discs. This would not be very valuable for rewritable CDs or DVDs (as you can use software to erase data on them), but it is a gem for DVDRs and CDRs (no software can erase them, so the Disc Eraser comes in handy).
You can also the Disc Eraser to create designs on your old discs, and possibly use the discs as peices of art. The Disc Eraser claims that it is the only disc-destructing product that ecourages recycling, and that no harmful toxins are released into the air by using the product, but that other products produce "e-waste".
DiscEraser.com has tons of pics and testomonials, and can be ordered off of their website for $12.99 plus shipping. The Disc Eraser also comes in different colors, which can be specified when you order it.DiscEraser.com Page [Via: DiscEraser]