Commodore 64 Mini release date finally gets some good news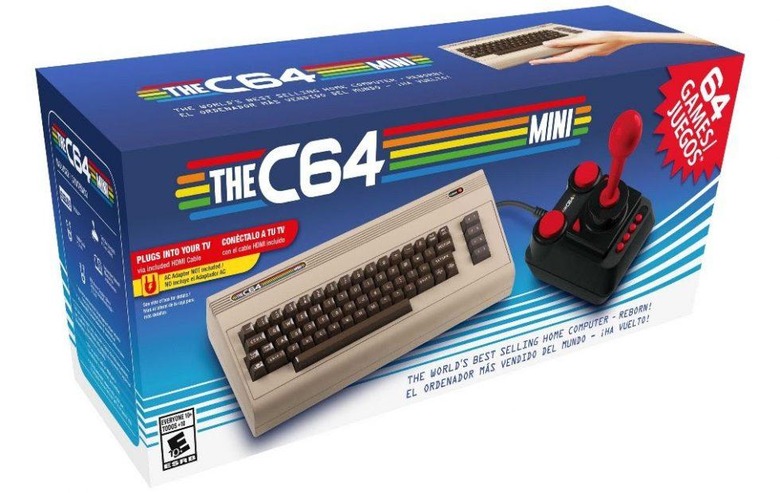 Last year, Retro Games announced that it was reviving the Commodore 64. Following in Nintendo's footsteps with the NES and SNES Classic, the machine Retro Games revealed was a small-scale replica of the original Commodore 64 that came loaded with some of the most noteworthy games from the time. Now, some months later, Retro Games has announced when the mini console will make its way to North America.
Today, Retro Games announced that the C64 Mini will come to North American shores on October 9, 2018. The device, which is a 50% scale replica of the original Commodore 64, will come packed with 64 games from the console's heyday, including titles like California Games, Speedball II: Brutal Deluxe, Impossible Mission II, and Uridium. As with the NES and SNES Classic, you can save your progress in these titles, which is functionality that wasn't present with the original Commodore 64.
The C64 Mini, as it's officially called, ships with one joystick, but its two USB ports mean you can connect a second one for some multiplayer sessions. You can also connect a keyboard using those USB ports and turn the C64 Mini into a "fully functional home computer" running C64 BASIC.
That's probably the coolest thing about this retro console, but if you're not interested in the home computer angle, you'll at least be able to look forward to 720p gameplay at 60Hz. You can, of course, also apply some display options, including 4:3 aspect ratio and a CRT filter.
For now, there's no word on North American pricing for The C64 Mini. Over in the UK, the mini console costs £69.99, so we can probably expect it to cost somewhere around $80 or $90 here in the US. We'll have more information when it's available, so stay tuned for more.