Comcast Xfinity Flex streaming service is for Internet-only customers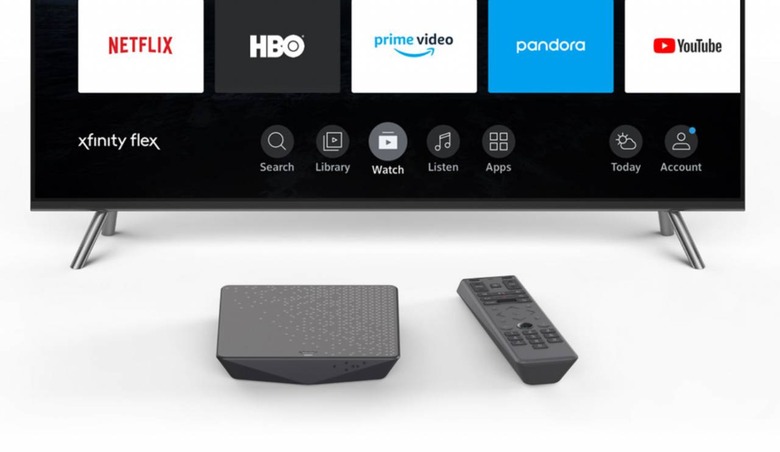 Comcast has introduced Xfinity Flex, its own streaming television and video service. The new platform brings Internet-only customers the opportunity to get live streaming TV and on-demand videos without signing up for the Xfinity X1 service. Comcast calls Xfinity Flex a 'streaming platform,' one offering an integrated guide with direct access to other popular services, including Prime Video and Netflix.
The Xfinity Flex platform includes a 4K HDR streaming box from Comcast. With it, customers can access more than 10,000 videos across both TV shows and movies, according to the company, as well as live TV via services like Pluto and Xumo. The streaming platform will be made available to Internet-only Xfinity customers.
The Flex platform is essentially an alternative to Fire TV, Roku, and similar platforms, but one limited to Comcast Internet customers. The set-top box supports 4K HDR video for compatible TVs, and it features a voice remote for providing verbal access to content.
As well, the device enables Comcast customers to see their WiFi password, set up parental controls, pause WiFi access, and view which devices are currently running on the home network. Assuming the customer has Xfinity Mobile, Flex can be used to locate the phone when it is lost. The device also supports accessing security camera video feeds and disarming one's home security system.
Comcast plans to make it possible for Flex customers to directly upgrade to the service provider's Xfinity X1 cable service, as well. The platform will cost Xfinity Internet-only customers $5/month on top of their existing Internet plan. Of course, the customer will need their own separate video service subscriptions to access the content from those platforms.