Comcast X2 entertainment platform unveiled with preference-learning "experience"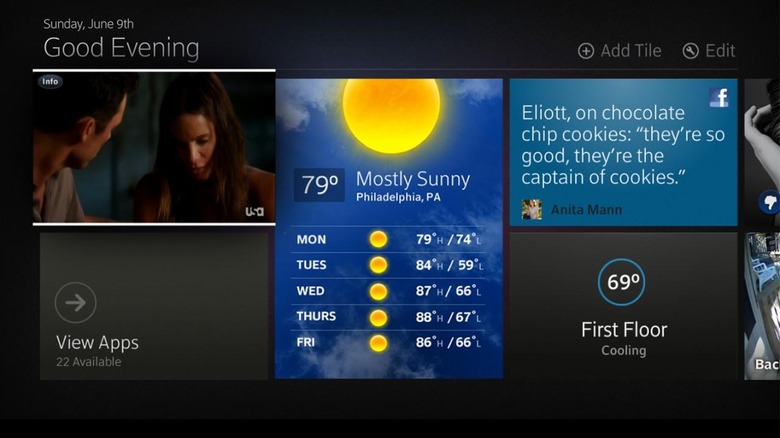 Comcast has announced the next generation of the Comcast X1, its entertainment platform. According to the provider, this new version offers a "personalized experience" that not only allows users to customize their dashboard, but also keeps an eye on the user's preferences and uses that information to adapt. The platform will be rolling out to Xfinity subscribers "later this year."
The announcement involves a preview that took place at The Cable Show 2013 in Washington, DC, which was done via Comcast's CEO and Chairman Brian Roberts. In addition to showing off the upcoming X2 platform, it was also revealed that changes have been made to the X1 Platform, such as the addition of web-based content, as well as speed improvements and a more intelligent functionality.
Said Roberts: "With the introduction of Web-based content to the platform today, and the promise of a faster and more integrated experience with X2, we're adding more functionality to each screen in a customer's home, and transforming our video product into a complete entertainment operating system." The platform can be accessed via a computer, tablet, smartphone, or TV.
Some of the features shown off at the NCTA event today include the new customizable dashboard, which lets each user create a personalized home screen tailored to specific needs and personal wants. Apps, DVR information, weather, news, and other things like that can all be added to the dashboard. Those who use Xfinity services can also add those to their dashboard, including calendar and voicemail.
Another feature is what Comcast calls "Uber-personalization," which in part involves the system providing content recommendations based on the viewing habits of the user, with a promise that the recommendations will get more precise over time as the system has more data in the user's habits. There's also social integration, adding in content from places like Rotten Tomatoes and ratings from Common Sense Media, making it easier to pull up information on a movie or show.
The X1 updates are available now.
SOURCE: Comcast