Combine Collective offers wooden keyboard trays for Mac heads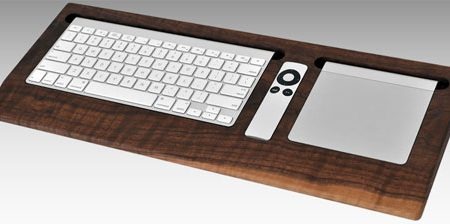 If you are a hard-core Mac user that has all your Mac peripherals lying around on your desk and want a way to make that stuff look more organized Combine Collective has your fix. The company has unveiled several new and very nice looking keyboard trays.
The trays are made out of black walnut wood and there are three variations of the tray offered. The idea behind each of the trays is to take all those Mac accessories like the wireless keyboard, remote, and Magic Trackpad and put them into one unit.
The company makes the trays out of whole and solid-jointed hardwood, water-based glue, and food safe oil finishes. You can get the tray for the keyboard, remote and trackpad for $79. The tray just for the keyboard and trackpad is $74 and the tray for the keyboard only is $69. I think the remote on the three-item tray should be positioned on the other side of the trackpad, not in the middle.