Combat+ Sync sport headphones have built-in intercom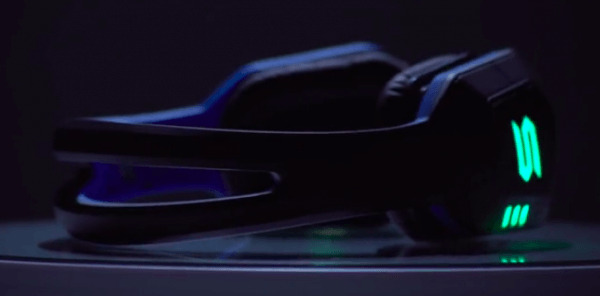 Exercise and sports practice are often paired with music, and the music is usually delivered via a pair of earbuds wedged deeply in one's ears. That's fine until a coach or personal trainer needs to get your attention — then it's all arm waving and towel throwing until the wearer takes notice. The new Combat+ Sync headphones take care of that problem by featuring a built-in intercom mechanism; they double as a pair of walkie talkies, allowing a trainer to talk directly into the athlete's ear from a distance.
Combat+ Sync headphones are designed to look tough, they're sound-isolating, and they connect with a smartphone using Bluetooth. They can be used as part of an exercising group, as well, allowing wearers to talk with each other at distances up to ten miles — making them useful for cyclists, hikers, and others who don't stick too closely together. Each ear cup features a glowing logo for extra visibility.
According to the device's maker, Combat+ Sync's headband is made from TR90, a plastic compound said to be lighter than nylon, but also flexible and durable. As such, the headphones can be twisted and bent across the band without breaking. Combat Sync can run for about 12 hours before needing to be charged again.
Combat Sync's creator is seeking funding on Kickstarter, where it hopes to raise $90,000 USD with $30,700 USD or so currently pledged and 29 days remaining. The "early bird single pack" is sold out, but a pledge of $199 USD will get backers the "Single Pack", which includes a pair of Combat+ Sync headphones. Delivery to backers is estimated to start this upcoming February.