Cirago iAlertTag makes it easier to keep track of your iPhone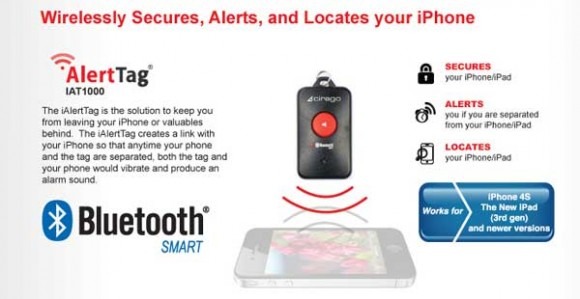 Some people have a hard time keeping up with their smartphones at home in the office. I think my wife may lose her smartphone at least three times per day inside the house. She can never remember where she set it down, and we end up having to walk around the house listing for it ring what I call it. If you have a similar issue keeping up with your iPhone, Cirago has a new product that will make keeping up with your device simple called the iAlertTag.
The iAlertTag is a Bluetooth 4.0 smart device that can be used to wirelessly secure, alert, and locate your iPhone if lost. The system is designed specifically to help you not leave your iPhone or other products behind. The iAlertTag creates a wireless link using Bluetooth between your phone and the tag causing both the phone and the tag to vibrate when separated.
An audible alarm also sounds when device and the tag are separated. While the iAlertTag supports the iPhone, it will work with several other devices as well. The company says if you're using the system with a Windows computer, the tag can automatically lock the computer when you walk away so it stays secure.
An iPhone companion app is available free on the App Store that allows the alarm to play any tune from the iTunes library. The app also supports the management of multiple tags at the same time. The iAlertTag IAT1000 supports the iPhone 4S, third generation iPad, and Windows computers using Bluetooth 4.0. The system is available for $49.99 online and in some retail stores.