CineSquid sucks in place for tricky camera shots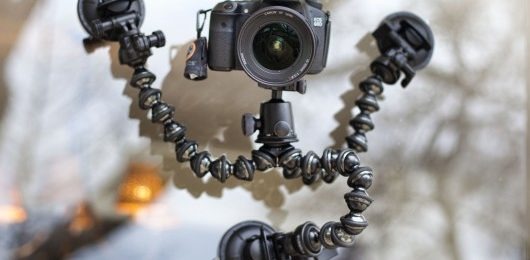 Camera enthusiasts, both aspiring and pro, are getting creative with DSLR cameras for cinematic projects, which leads to interesting new solutions for their needs. Cinetics is introducing a new tripod setup called the CineSquid that's a mix of a GorillaPod Focus tripod, a BallHead X camera mount, and industrial-strength suction cups so that it can be mounted to almost any smooth surface.
The CineSquid is similar in design to the company's other DSLR tripod called CineSkates, which instead of three suction cups, features wheels. The wheels allow for smooth dolly-like tracking shots. On the CineSquid, those wheels have been replaced with suction cups which allow the tripod to be stuck to any surface or even on another object that rolls, giving it more versatility.
Cinetics claims that the suction cups on the CineSquid are so strong you could actually attach your camera and tripod to the belly of an airplane that's traveling at 200mph. Given this strength, that means the CineSquid can be attached to all sorts of fast moving objects including to the exterior of cars, boats, and trains.
The CineSquid will certainly be a handy and relatively affordable solution for those seeking creative shots, but it still costs about $235. Those who already have CineSkates can pay just $120 for the suction cups only. The system is available today and should ship beginning next month.
[via GizMag]