Chuwi LapBook Air, Hi9 Tablet, SurBook entice IFA 2017 crowd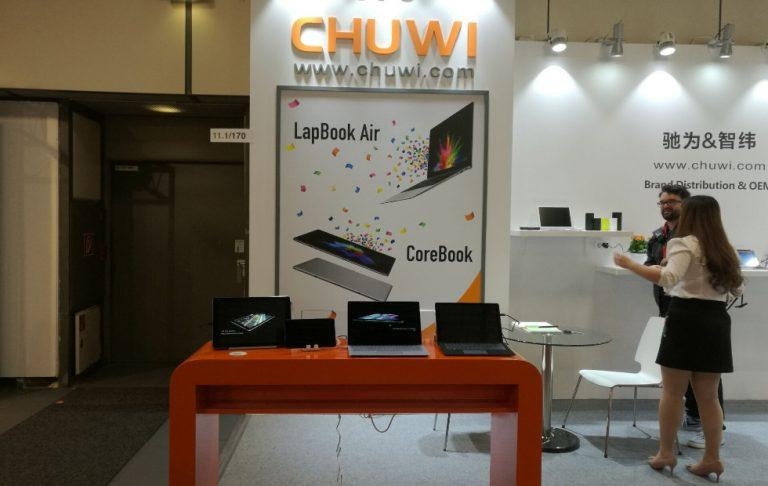 IFA 2017 presented a ton of new products, many of them premium and many of them premium priced. It might be too easy to think that the tech world is split between expensive high-end machines and cheap, underpowered gadgets. There exists, however, a wonderful world in between, where function, form, and price are in near perfect harmony. Chuwi, one of the more prolific Chinese consumer electronics manufacturers, proved the existence of that world by bringing to IFA three of its latest products that aim to deliver affordable performance, functionality, and design.
Chuwi Hi9
Not everyone needs an expensive iPad or Galaxy Tab tablet, but everyone deserves more than just some cheap, no name knockoff. Although some might too easily put Chuwi in the latter category, its upcoming Hi9 tablet proves they are worlds above that.
The Hi9 has an 8.4-inch screen that boasts of a 2560x1600 resolution which you'll rarely find in budget-friendly tablets. It is powered by a quad-core MediaTek processor, no less, with two high performance Cortex-A73 cores and two power efficient Cortex-A53 cores. Equally surprising is the 4 GB of RAM inside, paired with 64 GB of internal storage. It even has dual band 2.4/.5 GHz Wi-Fi.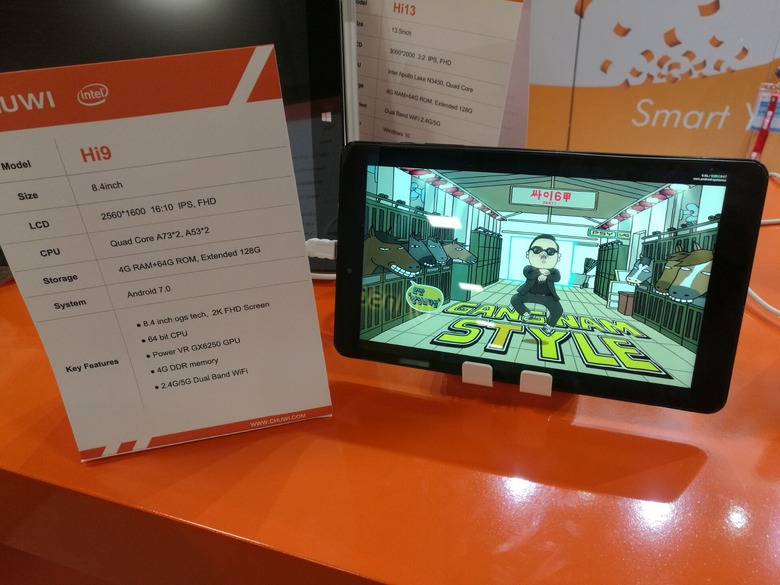 Admittedly, it's not exactly a looker when you flip it over, but you'll most likely spend more time taking advantage of its hi-res 16:10 screen rather than staring at its matte back. Plus, a textured surface does usually mean less fingerprints and less accidental slips.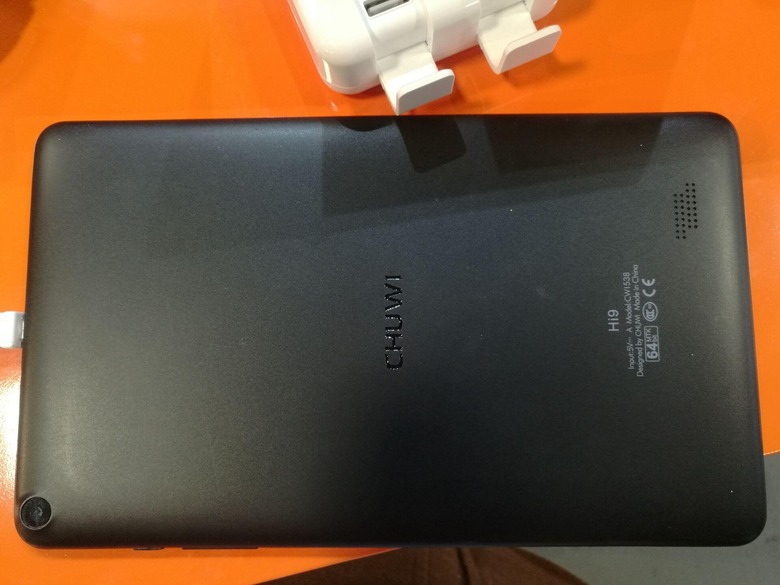 Chuwi LapBook Air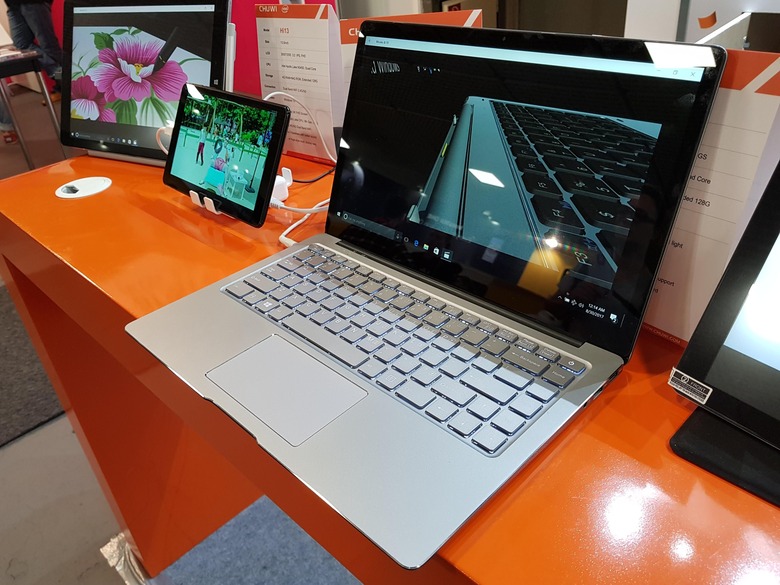 If you really want something that looks nice but also has some bite, then Chuwi has its new LapBook Air for you. Go ahead and ridicule it for looking and sounding like a MacBook Air, because that's really the case. Then again, Chuwi is hardly the first one to do so and, admittedly, the MacBook Air is something you'll want to look at and hold a lot. And you might find yourself carrying it a lot, considering it only weight 1.3 kg, just a few grams shy of the MacBook Air's own 1.35 kg.
The Chuwi LapBook Air isn't all just looks either. It is powered by an Intel Core m3 processor, so you can rest easy that this is no Atom pretender. There's 8 GB of RAM inside and 128 of GB storage. Quite unexpectedly, it boasts of M.2 SSD expansion. Perhaps the only downside is that the 14.1-inch screen only goes as far as 1920x1080 pixels, but, then again, that is more than OK for some.
Chuwi SurBook
The last of the trio is probably familiar to some, especially those who like to keep track of crowdfunding campaigns. If the LapBook Air is Chuwi's MacBook-alike, then the successfully crowdfunded SurBook is its Surface contender. There is no shortage of Surface rivals and clones, so the SurBook faces a tough climb ahead. But if its Indiegogo campaign was any indication, it isn't going to run out of prospective buyers.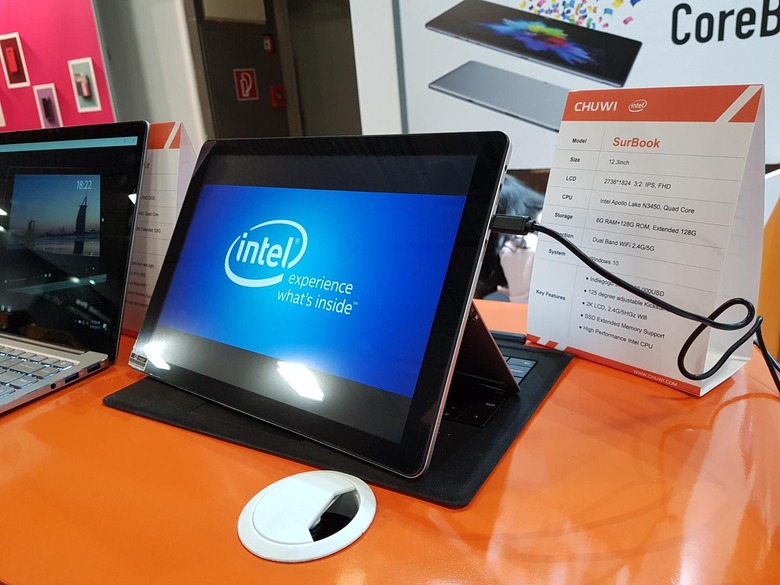 Truth be told, the Intel Celeron N3450 isn't completely encouraging, though it is at least the semi-latest Apollo Lake generation. It does put the SurBook on par with the new breed of Windows 10 S laptops but offers a great deal more for less.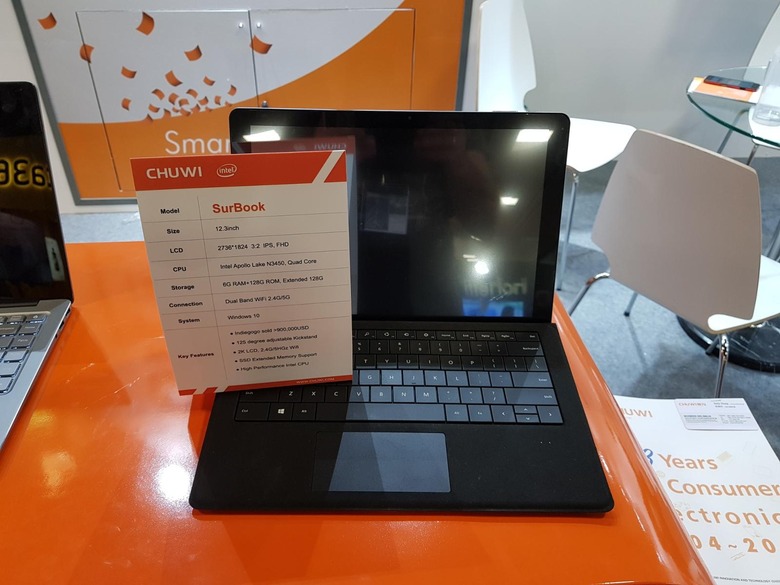 The 12.3-inch screen, for example, not only boasts of a resolution of 2736x1824 but also of Sharp's IGZO LCD technology. And yes,. there's also a stylus included with 1,024 levels of pressure. There's 6 GB of RAM and 128 GB of expandable storage inside. And, since it is a Surface–alike, it does have that kickstand that most now prefer over flimsy smart covers or no kickstands at all.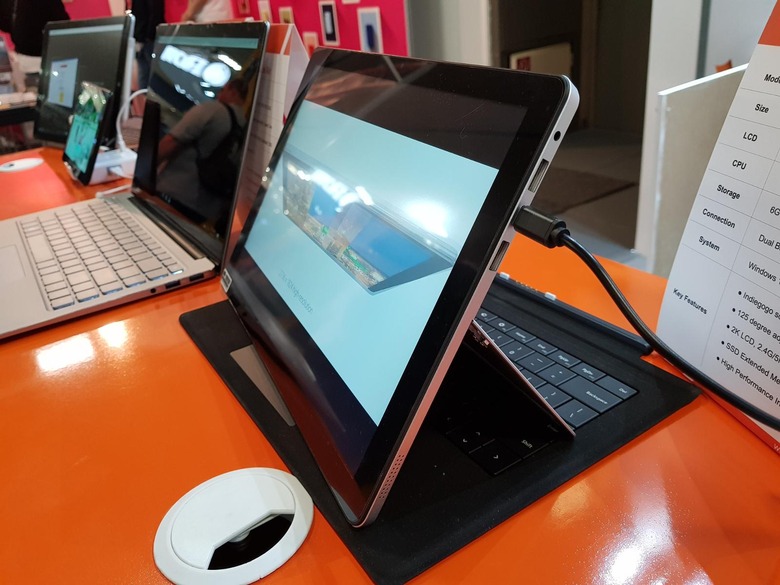 Availability
Chuwi didn't talk about price or exact dates yet, but we can pretty much guess the general range of these devices. Chuwi's smallest tablet, the Hi8, costs less than $150 right now, and that's with Windows 10 on board. The Chuwi Hi9, which launches next month, could cost even less.
The Chuwi LapBook Air will go on sale end of September and don't be surprised if it does cost a little more than $300. You are, after all, getting a lot more from Chuwi's most premium laptop yet.
There is no word yet on when the Chuwi SurBook will go on sale. That's because it will only be shipping to Indiegogo backers in two weeks. But if the pricing on the campaign hasn't changed, expect the SurBook to cost around $500 when it does come out.