Chuwi GBox Pro Review: lite mini PC for lite budgets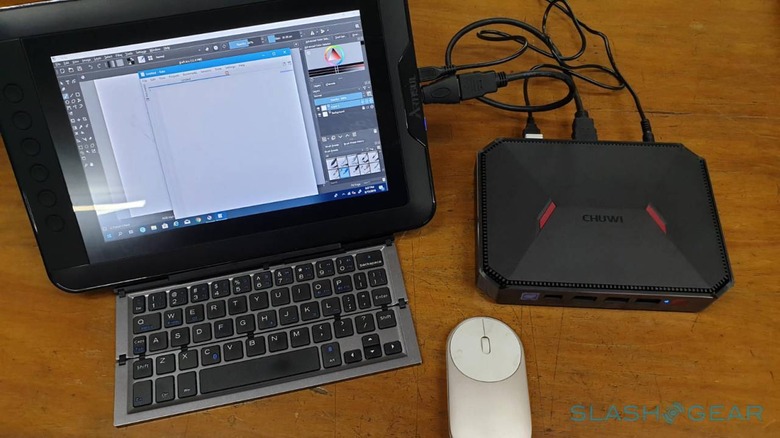 News in the computing and tech world often highlights the spectacular and, sometimes, the extravagant. While it's understandable that we get attracted by shiny products and powerful devices, not all consumers are swayed by those factors. Some need simpler yet still usable computers that can not only fit their budgets but also fit their aesthetic tastes as well. Those buyers might want to take the Chuwi GBox Pro into consideration. Despite the "Pro" in its name feeling like a letdown, the small box still has a lot to offer those with more constrained budgets.
From tablets to tables
Chuwi is no stranger to the PC market but, until recently, it has focused more on standard mobile computers. It's most numerous products revolved around tablets, including some 2-in-1 convertibles, but it then also started dabbling in laptops as well. More recently, it also dipped its fingers in the desktop cookie jar but with a slight twist.
Instead of expensive and towering desktop most PC users are familiar with, Chuwi aimed for a market where even a gaming-oriented desktop can be easily picked up and placed elsewhere. It is against this backdrop that the GBox Pro launched, a small box that sits squarely between the NUC-like HiBox Mini and the beefy HiGame in both size and power. And, true to that theme, this mini PC is all about finding that sweet spot in between extremes.
Design
Chuwi uses the slogan "Work Smarter, Play Harder" to advertise the GBox Pro. Whether it empowers users to do both is the topic of this review but, as far as looks are concerned, the box immediately gives off a gaming PC vibe more than work desktop. The polygonal black meta box with red accents would definitely call to mind PCs from ASUS' Republic of Gamers brand or even gaming smartphones like the nubia Red Magic.
Aside from the eye-catching red on black theme, the GBox Pro is pretty conventional as far as mini PCs go. In other words, it is decked with ports front and back, including two USB 2.0 ports, two USB 3.0 ports, one USB-C port, an Ethernet port, a microSD (not full SD) card slot, HDMI and VGA connectors, and a headphone jack. In contrast, the sides are completely barren and the bottom has your typical screws. That said, there is an unusual slot underneath the box for mounting it on a VESA bracket that comes in the package.
Specs and Benchmarks
For a computer that's being advertised for work and play, the GBox Pro's specs might look disappointing. You may have long forgotten about Intel's Atom line of low-power processors but here it is back from the dead with a 2016 Atom x7-E3950. There's 4 GB of DDR3 RAM (yes, that's not a typo) and 64 GB built-in eMMC. The latter might worry Windows users but, thankfully, you can supplement the setup with any 2.5-inch SATA via the dedicated slot inside. Chuwi could have probably used a smidgen of SSD storage of the same amount but that would go beyond the GBox Pro's price point.
As you might expect, the GBox Pro doesn't do well in terms of benchmarks but numbers aren't always the entire story. But for those truly interested in those numbers, here are some screenshots from the usual culprits.
CPU-Z & Crystal Disk
3DMark
Geekbench
Performance
The Chuwi GBox Pro does amazingly well, despite and in spite of the mediocre specs above. Make no mistake, it's no gaming PC but even then it will actually do OK. The key, as always, is in choosing your battles. Chrome is quite the resource beast but those who live and breath Web won't have any problems opening multiple tabs. There is, of course, such a thing as "too much", especially for generations-old RAM.
On paper, both the GBox Pro itself and its Intel Atom processor are capable of playing and even transcoding 4K videos. In practice, you probably shouldn't rely too much on that advertised feature and be content with 2K at most. The GBox Pro doesn't have graphics hardware you can boast about but, with medium settings and within certain restrictions, it can be a gaming and art PC you can take with you to work and back at home. Unfortunately, its dependence on a wall socket via a traditional power plug limits its potential for computing on the go.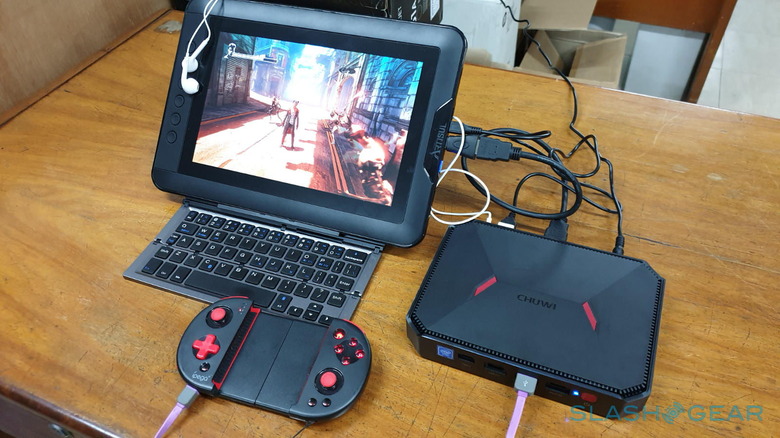 Even in gaming and running benchmarks, the GBox Pro stayed warm at most, never uncomfortably hot, a testament to its design and its power-sipping hardware. Unfortunately, the box does seem to only sip power as the USB ports seem to have trouble powering up certain accessories, especially a large external drive. That's true even for the USB-C port which you'd expect to be the most generous power giver of them all.
Wrap-up
The Chuwi GBox Pro can probably be best described as a jack of all trades. Like the stereotype, it is able to do quite a lot but it never really excels at any of them. It works great as a work computer and, depending on your preferences, can be an equally great gaming PC. It is, however, easily outclassed by others in the same mini PC market with beefier and more specs, even those without dedicated GPUs.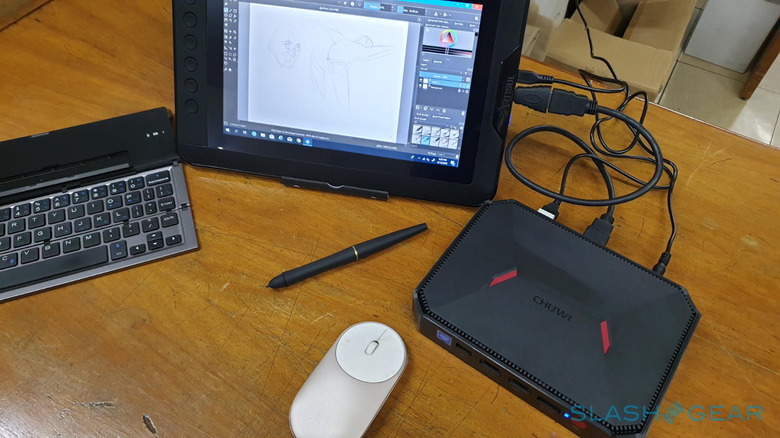 Where it outshines them all is the price. At $190, you will be hard-pressed to find a mini PC of its caliber and potential. And while you may not see it as a credible gaming computer, the Chuwi GBox Pro can serve any other purpose, from being a multimedia box, a "detachable" all-in-one PC, a DIY cloud server, and anything in between and anywhere you can fit its small yet capable body.