Chinese city builds 328ft air purifier tower to tackle smog problem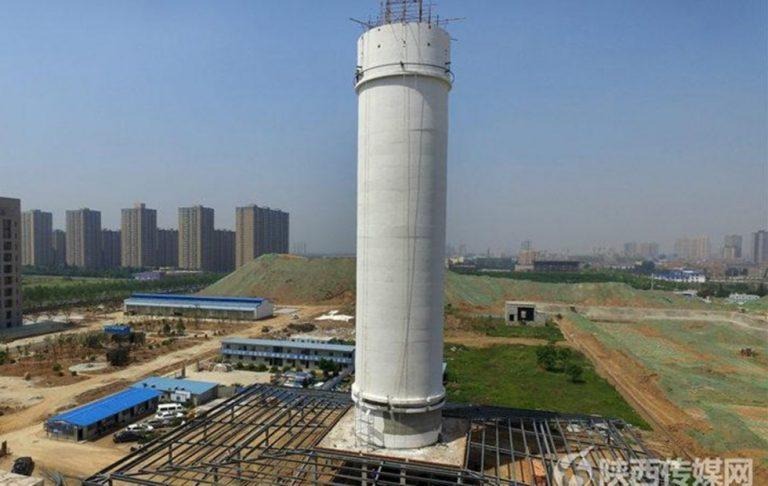 A city in Northern China has built what it calls the world's largest air purifier in a bid to reduce smog levels. Measuring 100m / 328ft high, the tower resembles a huge concrete cylinder, but it is said to be far more than that. According to a local publication, researchers from the Institute of Earth Environment at the Chinese Academy of Sciences are testing the air purifier tower.
The tower is located China's Shaanxi province in the city of Xian, according to South China Morning Post. The city built the tower is an effort to decrease air pollution levels. The tower is described as 'experimental,' but tests thus far reportedly show air quality improvements over an area spanning nearly 4 square miles.
During its time in operation, the duration of which isn't clear, the tower is said to have produced about 350 million cubic feet of clear air per day. According to lead researcher Cao Junji, the tower works by pulling smog into glasshouses where it is then heated using solar energy.
The hot air rises through multiple filtering layers, which strip pollutants from the air before it returns to the environment. The city is sorely in need of a solution like this, as it relies on coal heating during winter that results in heavy pollution during those months.
Test results show a notable reduction in fine particles, according to SCMP, though researchers caution that results are preliminary and evaluation is ongoing. The Xian tower's size greatly exceeds a similar air purifier tower located in Beijing, which measures only 23ft in height with an output of about 285 cubic feet of clean air per second.
Rather than using electricity primarily produced by coal to power it, the Xian tower primarily uses clean solar energy. It is unclear how much the city spent to build this tower, however it is said to be a test that explores not only air filtering efficacy, but also low cost solutions. Researchers will release a full report on the Xian tower in March.
Smog remains a major environmental and health concern for China, which has vowed to address the issue as part of its climate change goals. The nation has experimented with various solutions, though no single method has been implemented in large way. Climate Action Tracker warns that China's actions are currently insufficient.
SOURCE: South China Morning Post