China to send its first female into space tomorrow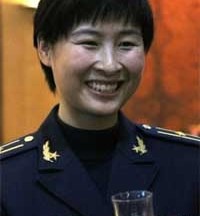 China plans to send three astronauts into space on Saturday aboard a Shenzhou-9 spacecraft. This will be the country's first manned space docking attempt if all goes well. One of the astronauts of the three-member crew will be Liu Yiang, a 33-year-old major in the Peoples Liberation Army and the country's first woman to ever go into space.
If the launch goes well, it will be China's fourth manned space mission. The other two members of the crew include Jing Haipeng and Liu Wang, both men. The rocket is set to lift off at 6:37 PM from the Jiuquan space base.
That space base is in the Gobi Desert in North China. The goal of the mission is to dock with the orbiting Tiangong 1 space station module. China hopes to complete its orbiting space station by 2020. The first manned space mission for China was in 2003, and the last was in 2008.
[via AFP]