Chevy announces it will produce the Spark EV in 2013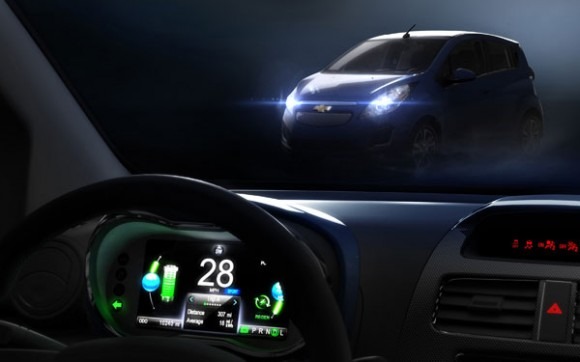 Chevrolet has announced that it intends to produce the all-electric Spark EV. The spark is a mini car and will be sold in limited quantities in select markets around the country starting in 2013. The Spark is an urban car, so I would expect it would be offered only in urban areas. Chevrolet isn't offering a huge amount of detail on the car at this point.
The car will use battery systems from A123. These battery systems are advanced nanophosphate lithium-ion battery packs. The full details on specific markets, range, quantities, and pricing will be announced at a later date. I would expect the car's range to be somewhere close to what the Nissan Leaf offers.
"The Spark EV offers customers living in urban areas who have predictable driving patterns or short commutes an all-electric option," said Jim Federico, global vehicle chief engineer for electric vehicles at Chevrolet. "It complements Chevrolet's growing range of electrified vehicles, including the Volt extended-range EV and the 2013 Malibu Eco with eAssist technology."

"Our global demo fleets continue to provide insight into the needs of electric vehicle customers living in urban environments," said Federico. "The Spark EV is another step in Chevrolet's plan to provide customers with a variety of electrification solutions to address the lifestyle and transportation needs of people around the world."