Chevrolet Spark modified to carry, deliver 80 pizzas at a time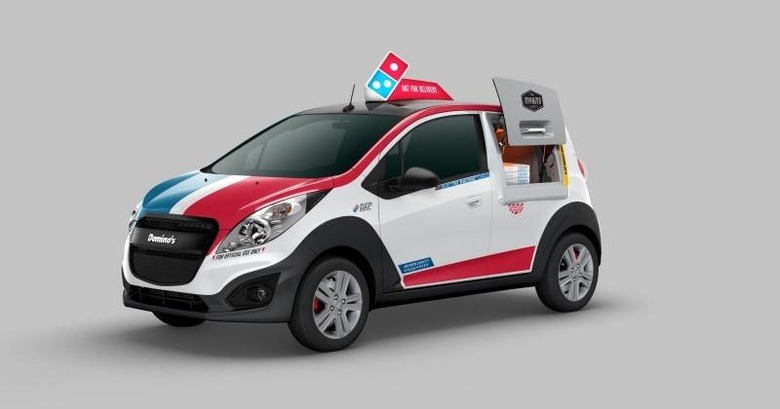 Domino's is working with some industry partners to create custom pizza delivery vehicles based on the Chevrolet Spark. These Spark units are dubbed the "DXP", which stands for Domino's Delivery Expert; they're designed to be the ultimate delivery vehicle, being what Domino's says is the "first purpose-built vehicle aimed at revolutionizing pizza delivery." It'll make things easier on drivers, and ensure your pizza is delivered hot.
The DXP vehicle is the result of a collaboration between General Motors, Roush Enterprises, and Domino's; a total of three years have gone into the development of this model, of which 100 units will be produced for Domino's stores across 25 cities in the US. The car started first as a crowdsourced design challenge called the Domino's Ultimate Delivery Vehicle Challenge. A total of 385 entries were received, and a concept was created.
The concept starts with a Chevrolet Spark vehicle and goes from there. The car includes a warming oven located behind the driver's door, as well as storage areas for stowing pizzas. A pair of Heatwave pizza bags can be placed within the warming oven, which drivers can pop open using the key fob. Everything but the driver's seat has been reconfigured, says Domino's.
All in all, a single DXP vehicle can hold up to 80 pizzas at a time, as well as other things on the menu like pop and wings. To ensure no one mistakes what the car is, it also feature a "puddle light" that is designed to project the company's logo onto the ground. The car is also decked out with Domino's logos and graphics.
Over the next three months, the DXP vehicles will start arriving in Seattle, San Diego, Houston, Detroit, Boston, and other major cities.