Check out NVIDIA's 200FPS DOOM gameplay demo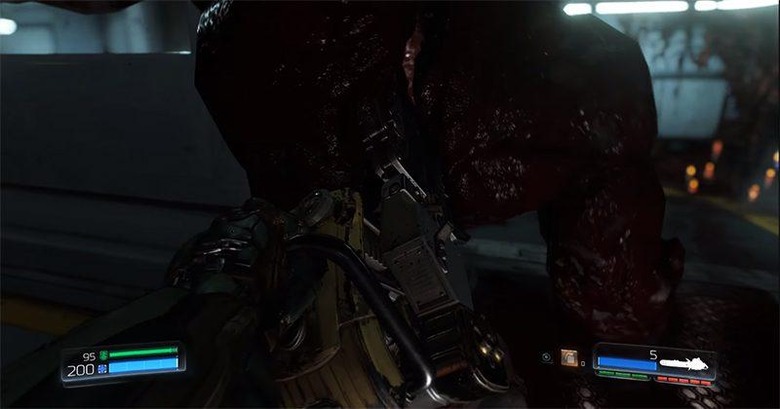 If you're a PC gamer, then you know that over the weekend, NVIDIA announced their new GTX 1080 and 1070 cards. The announcement came Friday evening, but this was only one part of a larger ongoing event over the weekend. At one point on Saturday, members of id software came out to showcase DOOM running on one of the newly-announced cards. And now we have footage of the demo that was shown.
When id took the stage, they actually came with a special announcement. They were very excited to tell us that DOOM supported Vulkan, making it the first AAA title to support it. What's more, they decided to demo the game running on a GTX 1080. They maxed out the settings and ran it at 1080p, and showed that the game ran at a perfect 60 frames per second.
Seeing a game like DOOM running at 60 FPS is nice, but that's not how you wow a crowd. So after showing off the smooth gameplay, they paused the demo, and unlocked the framerate. It instantly shot up to around the 200 FPS mark and stayed around that area for the rest of the time that they were playing. Not a bad way to showcase a new game, and a new GPU. Check out the demo that they ran
It should be noted that this isn't the exact demo that was shown on stage in Austin. They weren't recording the demo at the time, and only did so after they got back to the studio. It's also running on a Titan X, instead of a 1080, since they apparently forgot their new GPU when they were packing up. Still, it gives a really good idea of what you can expect when you fire up DOOM tomorrow. Here's the special message from id Software, regarding the demo:
"Thanks again to NVIDIA for allowing us to show DOOM at their event in Austin on Saturday," said Marty Stratton, executive producer at id Software. "We were thrilled with the response to the videos that some in the audience captured and posted, but we also know you'd like to see high-res, full-screen gameplay. We weren't capturing live, (and accidentally left our GTX 1080 at the event when packing up – argh!), but we came back and captured this re-play of the demo. This gameplay is from a PC running Vulkan on a Titan X at 120 FOV – with the player's personal upgrades and rune perks set for advanced speed and movement capabilities. Enjoy the video and we can't wait to have YOU play this Friday."