ChargeWrite is a pen with a built-in power bank and flash storage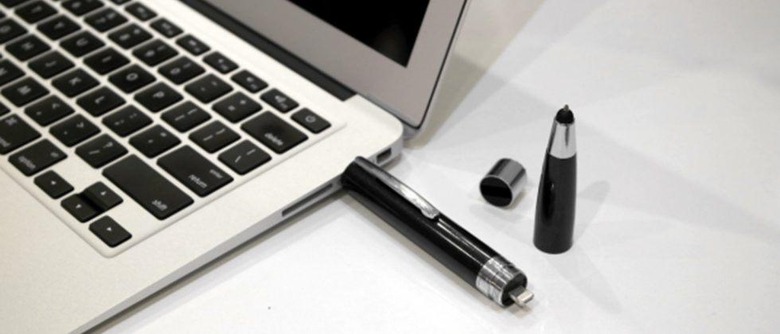 A new project on crowdfunding website IndieGogo aims to be your all-in-one office accessory, combining an ink pen, power bank, stylus, and a phone screen cleaner into a single product. The built-in flash storage can be used with both a laptop and a smartphone, while the internal power bank is charged via a wall outlet plug. Both regular and plus versions of the ChargeWrite will be offered, assuming the campaign is successful.
The idea here seems to be that you likely have all of these items in your tech bag as a normal part of your day, and combining them into a single product makes them more convenient (maybe), at least as far as portability goes. You can write a physical note when you need to, then connect the drive to your laptop to transfer some vital files for work later the day, as one example.
The ChargeWrite doesn't require any extra adapters to be carried, as it includes a universal smartphone tip that supports Apple Lightning connectors and micro USB. There's 16GB of internal storage, and when the ball point tip is retracted, the pen's top works as a rubber smartphone stylus for tapping on your phone.
The phone is being funded on Indiegogo, where they have so far raised far more than its $10,000 goal with more than $43,000 USD funds and a month remaining in the campaign. Those interested can get a single ChargeWrite+ pen in exchange for a $39 USD or higher pledge. Shipping is expected to start in May of this year.
SOURCE: Indiegogo