Changes are afoot for Zune users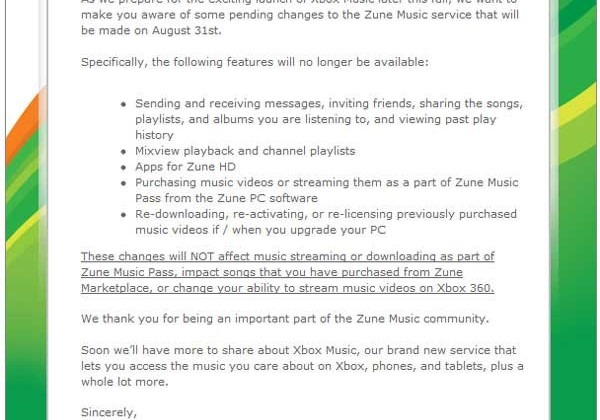 If you took Sheldon Cooper's advice and purchased a Zune rather than an iPod, changes are afoot. Reports are coming in that e-mails are going out to Zune users announcing features that will be changing. The features are actually not changing as much as simply disappearing.
The e-mail Microsoft is sending out to users of the Zune states that as the company prepares for the launch of Xbox Music this fall, changes are coming to the Zune Music service on August 31. August 31 is tomorrow for those not in front of a calendar. Some significant features will be disappearing tomorrow including the ability to send and receive messages, invite friends, share songs, share playlists, and view past play history.
Another feature that will no longer be available is Mixview playback and channel playlists. Apps for Zune HD will no longer be available. Users will also no longer be able to purchase music videos or stream them as part of Zune Music Pass from the Zune PC software.
Users will also be unable to re-download, reactivate, and re-license previously purchased music videos when they upgrade their PC. Microsoft does specifically point out that the changes will not affect music streaming or downloading as part of the Zune Music Pass. The changes will also not impact songs that users have purchased from the Zune Marketplace or change the ability to stream music videos on the Xbox 360.
[via Engadget]