Chairman phone from Ulysse Nardin is for luxury nerds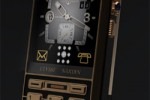 Who doesn't like an excessive gadget every now and again? If you've been itching to get your hands on something stylish and high-tech, you'll definitely want to check out The Chairman phone from Ulysse Nardin.
The aptly named "Chairman" is a phone for those seeking luxury in every aspect of their lives. Ulysse Nardin is a watchmaker and along with SCI Innovations, they have come up with this elite handset. So, what makes this phone stand out? Besides the fancy title, it also has a functional watch rotor. Kinetic energy is used to power the watch and it provides additional power to the rechargeable battery inside the phone.
What's cool is you can see the rotor turning inside the phone. No word on pricing just yet, but you know what they say about these luxury items: if you have to ask the price, you can't afford it! The Chairman will be available in the fall in steel/gold, solid gold and solid steel versions.
[via Slippery Brick]