CES 2009: VidaBox Room Client HD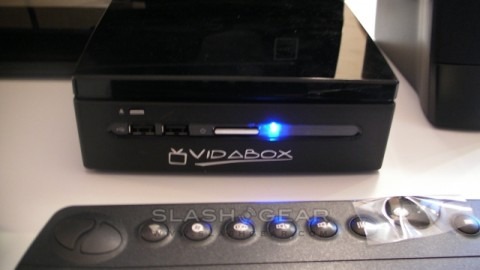 The VidaBox Room Client HD is rally a remarkable Blue-ray and DVD drive, but what sets it apart from other like devices are the features and backing of the RackServer. This setup allows you to stream your collection of Blu-ray movies, music and other media straight to your TV.
I know your thinking this is just like every other media system but that's where you're wrong, the Vidabox Media Center System has more features including karaoke, lighting control, security system integration and HVAC controls. If using a remote to brows the synopsis and info of a movie just is not enough you can purchase a tablet secondary display in 8.4-inch or 10.4-inch screen sizes.
Users can also control separate zones, for instance your den and living room could be set up as two different zones. The VidaBox will also allow users to brows media via the tablet screen while in the middle of watching movies. If you love this product and would like to fully integrate it into your home your in luck, you can purchase a 3.6-inch, 8.4-inch or 12.1-inch in-wall touchscreen controller.  The VidaBoxRoom Client HD only costs you $29.99 with Rack Server Stations starting at $63.99.