CES 2009: MSI X320 Super-slim Notebook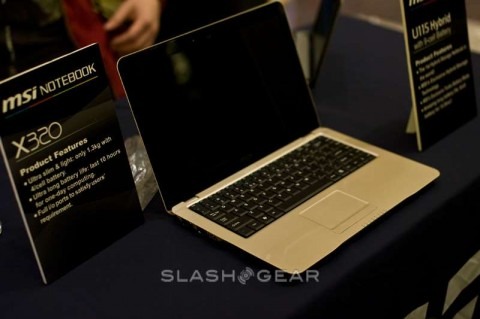 MSI's X-Slim X320 notebook might be somewhat obviously "Air Inspired" in its design, but doesn't mean it isn't an attractive piece of kit.  We stopped by the company at CES today to take a closer look at the 13.4-inch ultraportable, which is set to ship in Q1 this year (MSI told us they're aiming for the end of February).
Inside the 1.98cm thick casing there's an Intel Merom processor paired with MSI's proprietary ECO Engine energy-saving technology, meaning even though the X320 is, at its edges, just 6mm thick, it should still manage a fair few hours battery life.  We don't have definite battery specs, but MSI are claiming up to 10hrs use.
The display is LED backlit and is 16:9 ratio, perfect for showing films; however since the X320 lacks an optical drive you'll have to download them.  Ports include ethernet, three USB ports, audio in/out, a memory card slot and VGA output.  No word on pricing yet; MSI are still uncertain.