CES 2009 : Lian Li PC-B70 and PC-B71 Tower Chassis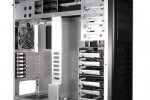 Lian Li is shaking thing up in PC armor department with its Pre-CES announcement; unveiled two high end PC tower chassis, PC-B70 and PC-B71 for end users who are looking for stylish design, and acoustics damping as a part of their computer system with tool-less accessible parts and oversize fans.
Both systems are tailored with the usual Li-Lian separated compartments we've grow accustomed to, which has large footprint with roomy design for water-cooling add-on and storage expansion; and are packed with high-end features such as vibration reduction brackets, anti-vibration rubber, aluminum sheet, Liquid cooling tubing holes and clusters of storage cages tools-less CD-ROM claspers and tool-less PCI card retention systems.
The PC-B71 , according to the manufacturer "is different via the lower part of the front bezel which has an integrated HDD Hot swappable SATA cage with a front facing securely lockable door". Both are fan-cooled with dual 120mm exhaust fans , and a pair of 140mm blue lit LED intake fans with removable and washable nylon filters.
Extra multimedia ports include 4x USB 2.0 ports, 1x Firewire (IEEE1394), 1x E-SATA and HD + AC97 Audio ports are also provided and are mounted on top of the chassis. Users like to stick with full Lian Li custom parts can get the additional add-ons kits such as SATA Hot Swap HDD racks, fan speed control thermometers, PCI coolers, additional air intake fans, card readers and bezels for the CD/DVD bays.
The announcement made no mention of price and availability.
Highlights for PC-B70

* Patented anti-vibration brackets for seven (7) HDDs

* Tool-less PCI card retention system and tools-less CD-ROM claspers

* Patented HDD cage modules

* Dual PSU capability

* Extra long PSU support bracket

* Liquid cooling tubing holes

* Cable management system

* Sound dampening material on doors

Highlights for PC-B71

* SATA Hot swappable HDD cage

* Support RAID and seven (7) HDDs

* Lockable Front panel door for HDD mounting

* Tool-less PCI card retention system and tools-less CD-ROM claspers

* Dual PSU capability

* Extra long PSU support bracket

* Liquid cooling tubing holes

* Cable management system

* Sound dampening material on doors