CES 2009: INQ1 integrates social networking into your contacts list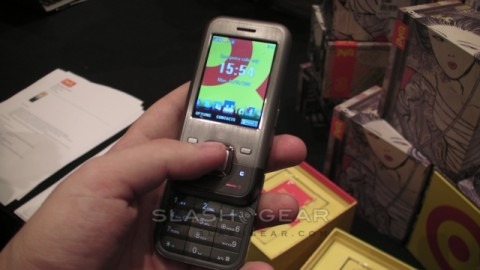 Today at CES we got the chance to play around with the new social networking based INQ1 handset. This phone takes all of your social networking fronts such as Facebook, Skype, Windows Live Messenger and MySpace and fully integrates them with the phone so there is no need to download a single application.
With the INQ1 you can snap a picture with the 3.2-megapixel camera and with a single touch of a button have it uploaded to your Facebook page.  Social status is integrated directly into your contacts list providing you with the online status, current status and updates for that specific contact Facebook, Skype and Windows Live Messenger. One click from this menu and you can either send them a message or see their profile.
This 3G-enabled phone has Bluetooth, A2DP and USB 2.0 connectivity.  The battery provides a very specific 329 hours of standby time and 324 minutes of talk time depending on applications. There is 50MB of internal memory and you will get a 1GB memory card in the box, which can be upgraded to 4GB if you so choose. This device has a 2.2-inch QVGA screen that looks very good on this small 97 X 47.6 X 14.4 handset. Te INQ1 is currently available in Europe with plans to launch in the US in the near future.