CES 2009: DISH Network unviels SlingLoaded Vip 922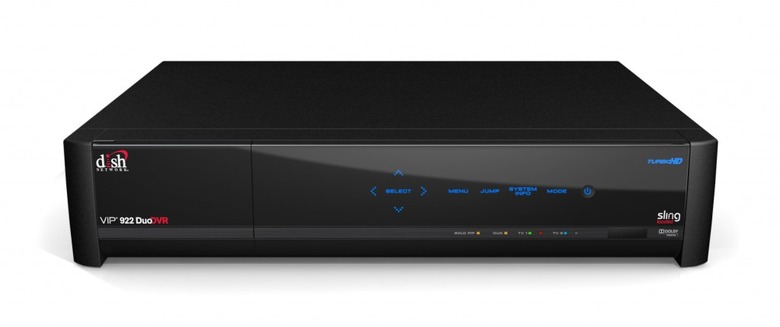 DISH Network Corporation has unveiled the world's first "SlingLoaded" HD DuoDVR, the award-winning ViP 922. The Vip 922 is the first high definition video recorder to incorporate placeshifting technology. This device was build by EchoStar Technologies and DISH Network as an entertainment centerpiece that combines 1080p Video on Demand and 100 percent, all-HD suite of programming packages available today.
The Vip 922 will be available to customers starting in Spring of 2009. With this new technology users can not only watch but control their favorite TV programming from anywhere in the world over broadband internet on their laptop or mobile phone. TV enthusiasts will never run out of programs to watch with five video sources including satellite, broadband and optional over-the-air tuners.  The Vip 922 also features a multi-tuner DVR with up to 1,000 hours of recording time with support for connecting external storage for more storage capacity.
"DISH Network is pleased to add another award-winning product to our suite of MPEG-4 HD DVR ViP receivers: a groundbreaking set top box that offers consumers the true experience of TV everywhere," said DISH Network Chairman, CEO and President Charlie Ergen. "By integrating Sling Media's Slingbox technology into our industry-leading HD DVR, DISH Network is providing even more ways for our subscribers to view their TV programming – through their television sets, their desktops at home, their laptops on the road, and their smartphones including Blackberrys, iPhones and more."
With the Vip 922 you have an innovative remote control that eliminates half of the buttons on the standard remote control which providing cursor-like navigation on the screen. Viewers also have access to many onscreen widgets which allows you to get instant access to news feeds located right on the home screen. Users can also control the Vip922 with the new SlingGuide over the Internet.