CES 2008 : Samsung New NV4 Digital Camera With PMP Technology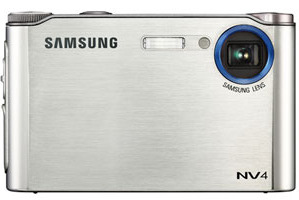 Samsung announced 2nd generation of NV series with portable multimedia player (PMP) technology. NV4 is an upgrade from last year 7.2mp NV3 digicam. The new hybrid digicam is like the popular camera phone with all-in-one multimedia for music, video and still image capture and playback. They aren't any different if you knock the phone feature off. The camera uses a more compact internal zoom and a 2.5 inch LCD display to replace the optical viewfinder entirely. Compare to NV3, the new PMP bumps the resolution up to 8 megapixels and added an improved version of digital Image Stabilization with $100 cheaper.
NV4 uses a CCD type sensor and pushes its sensitivity to ISO 1600, compared to the NV3's maximum ISO 1000. The 3x optical zoom lens is nicely squeezed inside a stylish silver brushed finish body with an internal zoom mechanism ranged at 38-114mm (35mm equiv.) Movies mode is also supported up to 800x952at 30fps. The only storage option is SD media and it runs on Li-Ion battery. It will be priced at $279 but availability has not been announced at this time.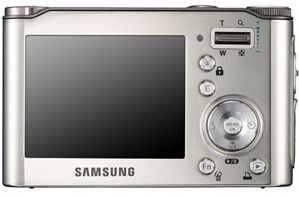 Samsung introduces new slim, PMP ready NV4 [dcreviews]