Celland Enterprises Digital Photo Frame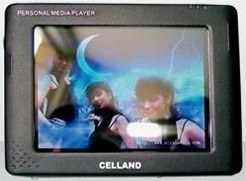 This digital photo frame clearly has a severe case of mistaken identity. I think DivX and Xvid playback are a good place to draw the line between a digital photo frame and a fairly amazing PMP.
If not then the WMV, VOB, DAT, and MPEG-4 might help strengthen my case that this is not a digital photo frame. It also plays MP3s and Ogg as well as displaying TXT documents, and then there is JPEG support, the only real evidence other than the screen that this is in fact a digital photo frame.
Hardware wise it has a 2.8-inch screen, voice recording, and AV out as well as up to 8GB of flash memory and a SD card slot in case 8GB is insufficient for you. No price or availability, though its made in China, so you'll probably never see it.
Mini Photo Frame is PMP in Disguise [via PMP Today]