Ceiva unveils new Pro 80 digital photo frame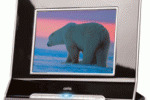 With the holidays coming up it is never too early to start getting ideas for gifts for your loved ones. One of the best gifts that you can give parents or grandparents is a digital photo frame so they can actually see all those digital pictures that they shoot. Ceiva announced a new digital photo frame today called the Pro 80.
The Pro 80 is feature packed and offers Ceiva's PicturePlan allowing connectivity via telephone and Wi-Fi. The frame also has a built-in media server that allows the user to stream photos from their PC to the frame over their home network.
The Pro 80 retails for $179.99 and with a special introductory discount, the fame is now selling for $147.99. The price also includes a year of PicturePlan photo delivery service that allows remote users to push photos to the frame automatically. The screen is 8-inches wide and has a resolution of 640 x 480. The device measures 8.5" x 10" and is 3" deep with a weight of three pounds. A built-in memory card reader works with most popular memory card formats.