CBS Sports HQ is a 24/7 streaming option for cord-cutters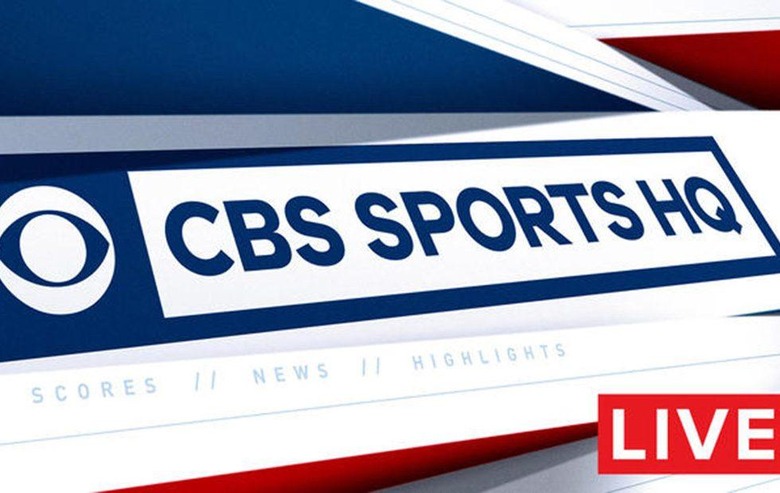 CBS just launched a new and totally free streaming option for cord-cutters and sports fans. Called CBS Sports HQ, the new streaming service offers sports and news content 24/7, doing so with "no filler," according to the company. The service is designed for "the modern sports fan" who wants things like game highlights and analysis, as well as sports news.
There's a decent number of sports-centric streaming options, but many of them, such as NBC Sports, requires the user to have a cable or satellite package that can authenticate the service. The new CBS Sports HQ option is different, with CBS explaining that it is free to anyone via the CBS Sports website, mobile app, and the popular streaming devices Roku, Apple TV, and Fire TV.
The new service will primarily focus on news, highlights, analysis, and info, CBS explains. However, the company promises that this content won't center on "bloated diatribes" and heated arguments, as has become common on certain other sports networks. Rather, CBS Sports HQ will focus on top analysts and their expertise, among other things.
The company goes on to explain that it offers a DVR functionality for recording shows, and it offers its shows broken into segments. Viewers can go straight to particular topics of interest or just play the live video feed. This service isn't for watching the games themselves, mind, but rather getting all the related content dedicated sports fans are interested in.
Talking about this is CBS's CEO Jim Lanzone, who said:
CBS SPORTS HQ is for fans who want more coverage of the game. Sports fans can now get the news and highlights they want in a true, round-the-clock sportscast on any device, where and when they want. As with CBSN, which continues to attract a growing audience of digital consumers, we also think there's a tremendous advantage in being first to market with this type of service in a crown jewel category.
SOURCE: CBS Sports