Cavity Case won't send you to the dentist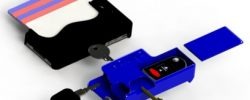 If you're anything like me, you have a ton of stuff you have to take with you when you're out and on the go. You've probably got your wallet, key ring, your smartphone, and who knows what else all crammed in the pockets of your jeans. That also probably means when you need something specific you end up digging around in your pocket as if it's a bottomless pit trying to find what you need.
If you use the iPhone 4 or 5 and you want to eliminate some of the stuff you have to carry around in your pockets, an interesting smartphone case has turned up on indiegogo looking for funding. The case is called the Cavity Case and it's designed to hold your iPhone and a slew of other items. This case means you can leave your wallet at home and still have your driver's license, credit card, and cash on you.
The case is designed with numerous pockets and slots. It will hold the smartphone, three keys of the house size or smaller, one average-size car key, a keyless entry remote for your car, and other items. The section designed to hold the car remote can also be used for lip gloss, a flash drive, or a pair of custom rounding closures available from the makers of the case.
The case also holds a telescoping pen that is available with the case. The case also has a mirror inside, and a leather wrist strap is available. The wallet section of the case will hold up to four credit cards, a driver's license, and has space left for a single bill. The section of the case designed to hold your car remote is designed to allow you to press the buttons without having to remove the remote from the smartphone case.
Naturally, all the storage makes this case fatter than your typical smartphone case. If you want to support the project, $39 will get you your own Cavity Case, $44 will get you the case with the telescoping pen or the strap, and $49 will get you the case, pen, and strap. The project is seeking $50,000 with 38 days left to go. So far, the case has raised slightly under $2100.